A global footprint
Thanks to its global technical support, R&D and sales teams, Arkema's Thiochemicals are able to provide innovative products, tailor-made solutions and services in a highly responsive manner, throughout the world.
Manufacturing: Arkema's Thiochemicals operate manufacturing plants in Europe, North America and Asia
Logistics: Strategic local storage in main consumption areas bring our major products closer to you
Customer service: You can rely on the assistance of our sales team, with branch offices in most of the countries.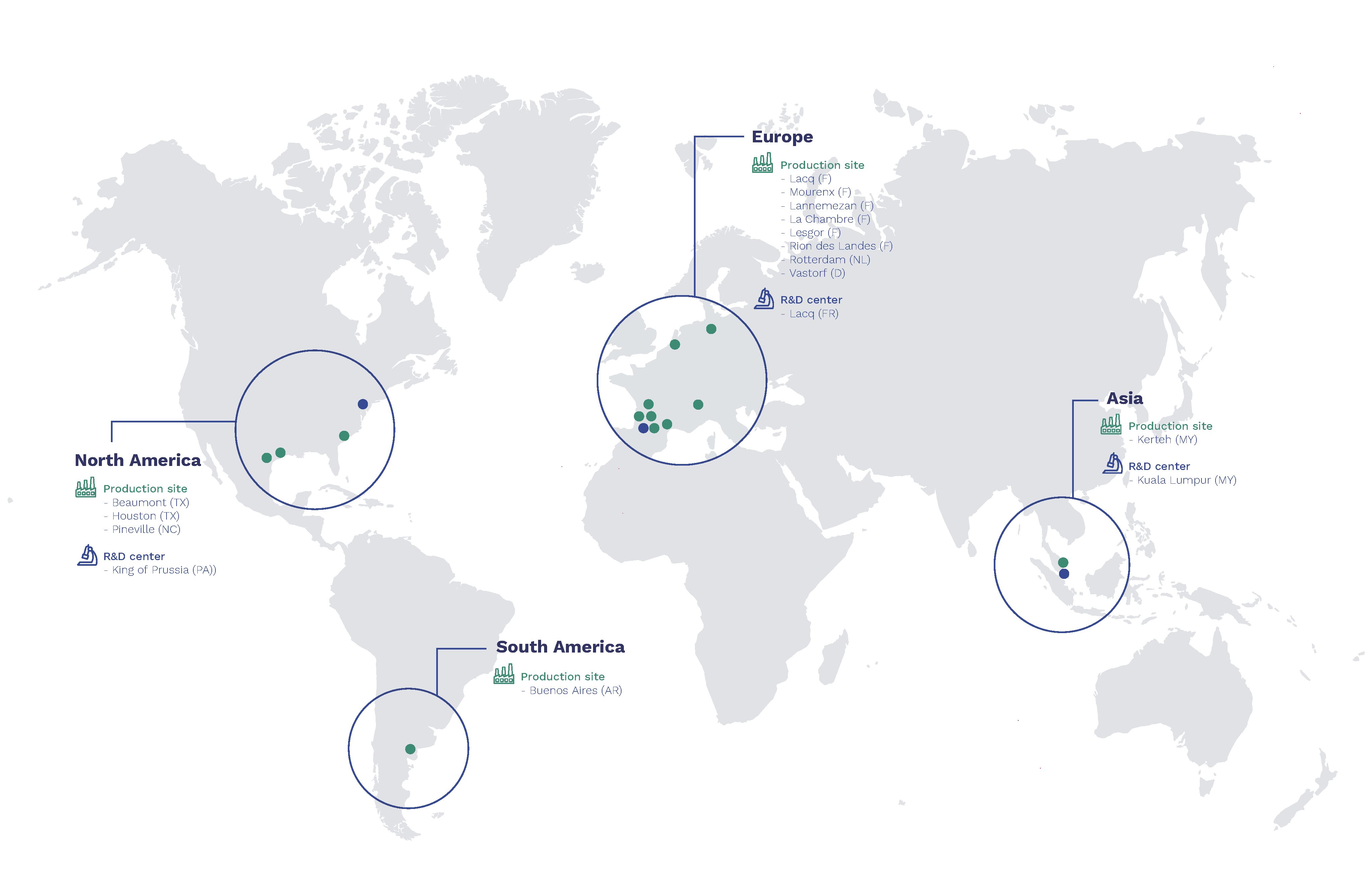 A wide range of applications
Our thiochemicals serve the following main markets in a global and integrated way with dedicated product ranges and turnkey solutions:
The food, agrochemical, cosmetics and pharmaceutical industries, by taking advantage of strong growth in these market segments worldwide.
The oil and gas sector with odorants for natural gas and integrated solutions to enhance the operational efficiency of steamcrackers and refineries.
The chemical and plastics industry as well as the automotive market through the use of a wide range of products such as solvents, synthesis and formulation intermediates, lubricants and additives for rubber and PVC.
Focus on biomethionine
Our platform in Kerteh, Malaysia complements Arkema's two sites, in Europe (Lacq, France) and the United States (Beaumont, TX). For the first time, our group now has thiochemicals industrial capacities in Asia, close to fast-growing markets. The site produces methyl mercaptan for use in the manufacture of biomethionine for the animal feed market as well as DMDS earmarked for Asia's petrochemicals and refining players.
Drive to meet the challenges listed by the United Nations
In terms of sustainable development, Thiochemicals' solutions addresses 9 of the 17 sustainable development goals of the United Nations Global Compact, mainly related to Good Health & Well-Being (3), Climate Actions (13) and Industry, Innovation & Infrastructure (9). These goals are complemented by our contribution to the fight against hunger and the commitment to clean energy.