Following the stock market listing in May 2006, Arkema has been carrying out an in-depth transformation, with a broad evolution of its business portfolio through many acquisitions and divestments, the rebalancing of its geographic exposure, and by investing in innovation for global trends in sustainable development.
Arkema has built a unique set of expertise in materials, putting together capabilities in terms of bonding, substituting traditional materials by lightweight or bio-based alternatives, or coatings.
With a leading industrial and commercial presence, Arkema operates in 55 countries with 20,200 employees worldwide, 3 R&D hubs and 141 industrial sites.
In 2020, Arkema is entering a new phase of its transformation and will reinforce its expertise now structured into three coherent and complementary segments - Adhesive Solutions, Advanced Materials, and Coating Solutions.
These three segments represent the Specialty Materials platform on which Arkema has built its long-term strategy and which accounted for some 85.5% of Group sales in 2021.
Beyond this platform, the Group has also set up an Intermediates segment with well-positioned, competitive and more cyclical activities, whose part in Arkema's portfolio will be progressively reduced through differentiated strategies across businesses.
In line with its ambition to become a pure player in Specialty Materials in 2024, offering the most innovative and sustainable solutions to address its customers' current and future challenges, the Group will notably leverage on its innovation and its investments in major projects offering promising growth opportunities and meeting major challenges such as new energies, lightweight, recycling, urbanization or mobility.
Our ambition for 2024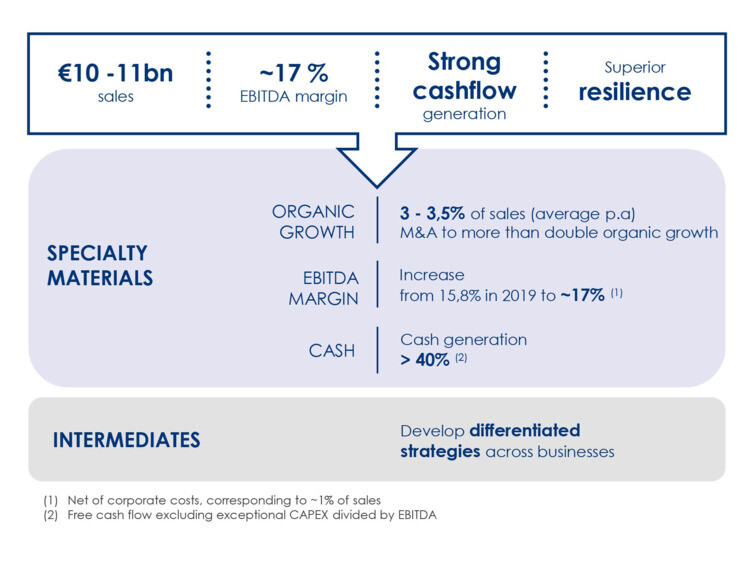 2021 Universal Registration Document