Solutions for treating waste water
The products of the Arkema Group are also involved in the purification stage at the beginning of the water treatment process:
Acrylic monomers commercialized under the Adame®, Adamquat® brands are used as flocculent polymers. Waste matter is trapped in agglomerated flakes and can then be filtered more easily.
Albone® hydrogen peroxide (oxygenated water) eliminates sulfur residues from industrial effluents. This ultimate clean reagent offers the advantage of not generating any sewage sludge or toxic by-products.
Highly protective coatings for water lines
Water quality also depends on the quality of the distribution lines and especially on their resistance to corrosion. In this field, the Arkema Group provides solutions to reduce investment and operating costs, while also preserving water quality.
Metal tube coatings made from Rilsan® Polyamide 11 fine powders have excellent resistance to wear and severe attacks. These coatings represent an alternative solution to stainless steel.
In addition, the fluorinated polymer Kynar® PVDF, used in the internal coating of polyethylene tubes for the transportation of drinking water, ensures the quality and safety of the water, from the treatment station to the consumer.
Discover Rilsan® Polyamide 11 fine powders
Kynar® PVDF membranes for more efficient water treatment
Today 75% of new filtration facilities around the world use a membrane filtration process. For the production of these membranes, the Arkema Group provides Kynar® PVDF, a high performance fluorinated polymer which offers long-term resistance to aging and corrosive chemical substances.
Researchers in the Arkema Group developed a series of Kynar® grades for a new generation of more efficient filtration membranes to:
improve the filtration of ultrafine particles such as pesticides and medication.
provide a hydrophilic function to membrane pores made of Kynar®, thereby increasing the flow of treated water and reducing energy consumption for high pressure water transportation.
Result: a filtration process which consumes less energy, and requires less frequent chemical treatment for the elimination of nanoparticles.
As captured from the environment by the industry, water is not a pure liquid: it contains other elements that can crystallize under certain process conditions and lead to the formation of scale. The nature of the scale varies according to the quality of the water and the process conditions (cooling tower, boilers, evaporators, oil and gas production, etc.).
While processing water in their installation, our customers need to rely on performant solution to prevent scale deposit.
Discover our CorinTH™ scale inhibitors product range, suitable for a variety of conditions.
An eco-friendly solution for cleaning water membranes
Scaleva® MSA is the solution for descaling applications including cooling towers, evaporative coolers, hot water boilers, and processing equipment (including water treatment membranes). Readily biodegradable, Scaleva® has an excellent HSE profile compared to other alternatives. Moreover, dilute solutions are safe for discharge to water treatment facilities as Scaleva® contains no phosphorus or nitrogen, two water pollutants that cause eutrophication (dense growth of aquatic plants leading to the death of animal life from lack of oxygen) in rivers, lakes and other bodies of water.
Boiler systems corrosion inhibitors are applied to avoid potential failure due to leaks and metal selttle. Our offer of water treatment additives include Dinoram® filming diamines and Noramox® solubilisers for corrosion inhibiting and dispersant properties.
Discover our range of solutions for corrosion inhibition:
Focus on... Sail for water
As a sponsor of Sail for Water, Arkema is taking action to improve access to drinking water, sanitation and hygiene. In the face of the global issue of water quality, the Group has decided to support this fledgling NGO and lend it its support by supplying water filter cartridges.
The first roun-the-world tour on a sail boat to support universal access to drinking water!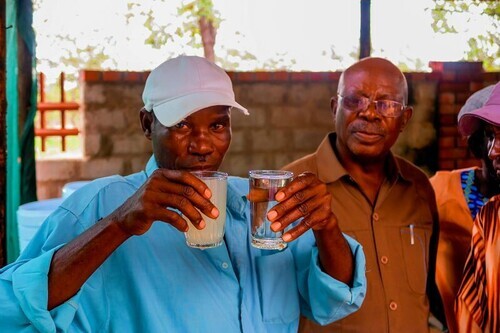 Our specific offering for other industries: