DMDS (Dimethyl disulfide), your reliable sulfiding and anti-coking solution
Product overview
Dimethyl Disulfide, DMDS Evolution® E2 is the most efficient and safe sulfur provider for Hydrotreatment catalyst activation and steamcrackers coking prevention. Our experienced technical support team is available to share its knowledge on Dimethyl Disulfide DMDS Evolution® E2 and our Research and Development team in Groupement de Recherche de Lacq keeps developing programs to ease and improve its use and performances. Arkema's world class production sites and global logistic network enable a local, easy and reliable sourcing; and our Carelflex® teams are available locally to perform your catalyst sulfiding. Our operations meet the highest certification for a consistent product quality and a service that meets our customers stringent standards.
Geographic availability
Africa
Asia Pacific
Europe
Latin America and the Caribbean
Middle East
Northern America
Oceania
Your value-added partnership with Arkema, the worldwide Dimethyl Disulfide producer
Our 40 years of experience producing high purity Dimethyl disulfide and multiple production sites together with distribution and bulk storage facilities located close to our customers ensure a fast and reliable supply to the major refining and petrochemical complex worldwide.
With decades of experience handling sulfur chemicals, our sales & technical network will provide you expert recommendations and will train your teams and provide you customized solutions for DMDS Evolution® E2 sourcing, storing, handling and injection.
A large fleet of returnable packaging semi-bulk containers (SBC] or iso-container is available for a safe transport and injection on our customer's site. Our Carelflex® teams will sulfide your hydrotreatment catalyst on time with the most reliable and efficient injection and monitoring equipment to resume production as planned.
Dimethyl Disulfide Applications
An extended and flexible logistic network of Dimethyl Disulfide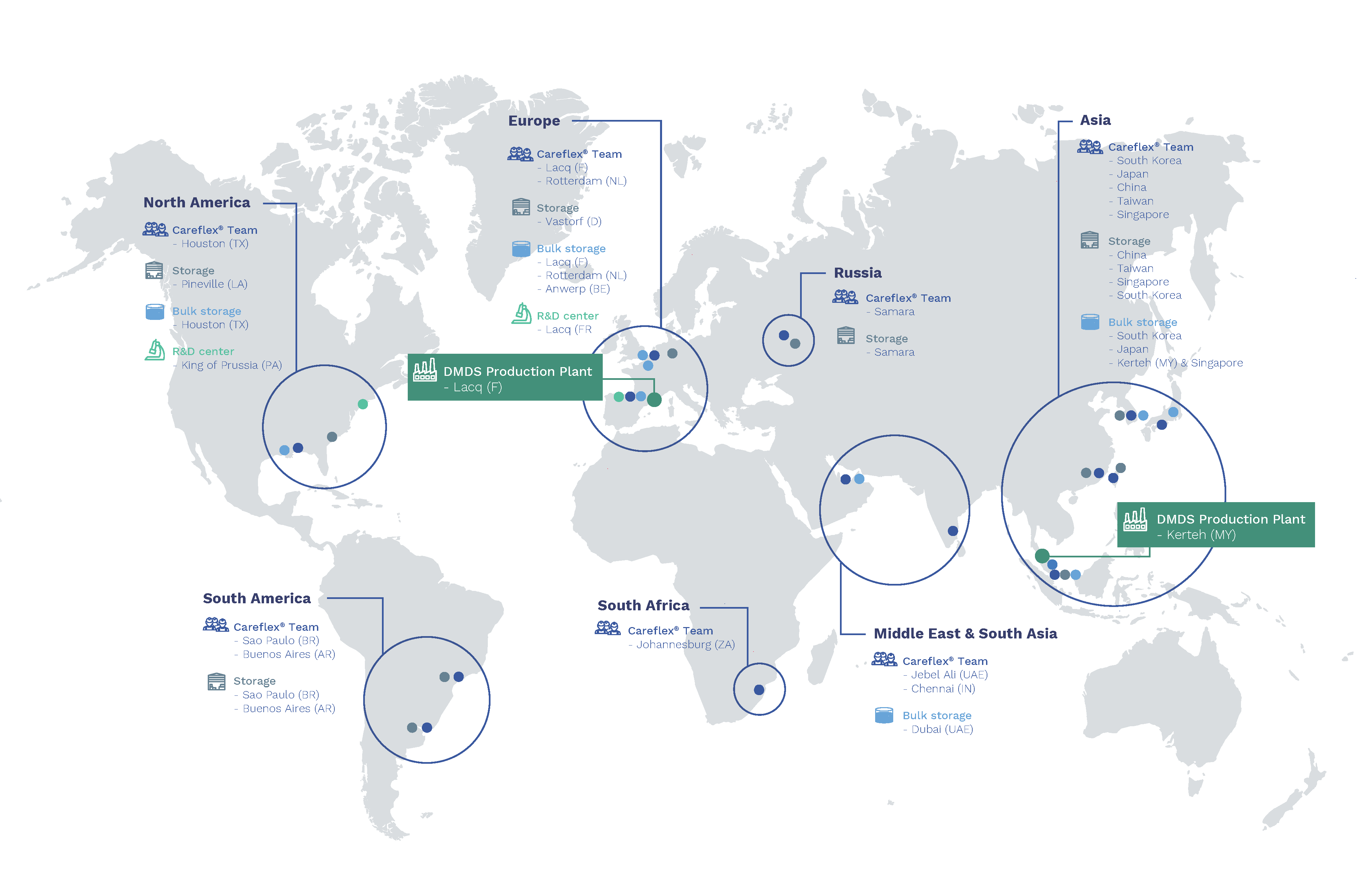 A unique logistic pattern
A unique global logistics pattern with a wide network of bulk storage tanks and warehouses close to the refineries and steamcrakers worldwide providing our customers with the shortest lead-time and safety of supply throughout the year. Our supply chain teams are local and meet our customer specific demand. More specifically, when our customers require DMDS injection during their turnarounds, our organization is flexible enough to reschedule to the last moment the product delivery and our Carelflex® teams mobilization and adjust it to the turnaround planning.

Trained & experienced local teams
Our Carelflex® teams are located close to our customers on all continents. Arkema meets MASE and VCA certification to operate in European refineries and in general all the safety and security training required by our customers all over the world. Our technicians and specialists with many years of experience, are provided with an extensive coaching program.

A comprehensive packaging range
A full range of customized packaging portfolio including a full fleet of isotanks and tank trucks, as well as customized pressurized returnable tanks. These packaging options are all designed to be handled and to operate the injection in safe conditions.

Two production platforms on two continents
Our production platforms in Asia and in Europe enable Arkema to maintain a steady DMDS availability through the year to all continents. Arkema increased its DMDS production capacities along with the growth of the demand to ensure a sustainable supply.
DMDS Evolution® E2, the standard sulfiding and anticoking agent of choice
Arkema is the only company to manufacture DMDS Evolution® E2, the standard sulfur derivative used by refineries,  steamcrackers, propane & butane dehydrogenation plants and renewable diesel & Jet fuel manufacturers. It is critical for the process performance of these industries to have a secured and global access to a high and constant product quality. This contributes to quick and reliable unit startup as well as immediate on-specification production, which are the fundamentals of the refining and petrochemical industry performances and profitability.
Carelflex®, an on-site sulfiding & digital service for refineries
Carelflex® is a sulfiding service that involves a team of highly qualified technicians, providing operational and safety know-how as well as the assistance you need for a safe, clean, efficient, hassle-free catalyst sulfiding, associated to a comprehensive fleet of injection pumps and real-time monitoring equipment.
With 40 years of industrial experience in DMDS production, Arkema is the only supplier who is fully integrated from DMDS manufacturing to on-site sulfiding services.
Contributing to sustainable solutions
With a highly integrated and protected process that delivers the highest yields, Arkema's DMDS production process is also one of the most energy efficient within Arkema and supports the company's commitment to meeting its greenhouse gas emissions and energy reduction targets.
H2S is at the heart of Arkema's sulfur chemistry. It can be produced from sulfur or extracted from the sour natural gas field. It is part of Arkema's fully integrated Dimethyl disulfide manufacturing process. It is the starting point of Arkema's commitment to provide a reliable supply chain of DMDS Evolution® E2 to the end user.
In line with Arkema's Corporate Social Responsibility Charter, we offer products that meet the framework of responsible management of our operations and social impact, contributing to the transition to a more sustainable industry and reducing our carbon footprint.
Improving the working conditions for refineries
As the world's leading producer of thiochemicals, Arkema's manufacturing expertise assures the highest and the most stable purity DMDS. Our DMDS Evolution® E2 is a breakthrough formulation for a better smelling DMDS sulfiding agent. It outperforms in odor control, providing a more pleasant fragrance, and improving the user working condition.
Reducing sulfur emissions in the air
Leveraging its expertise in handling H2S, Arkema has developed Carelflex®, an on-site sulfiding service for refineries, carried out by highly qualified technicians, in order to provide a real-time, and accurate H2S measurement tool during HDP catalyst activation. By using, only the appropriate amount of DMDS, our Carelflex® service makes it possible to lower the sulfur emissions in the air often considered as major source of acid rain, thus preserving aquatic life.
Optimizing the catalyst consumption for steamcrackers
By delaying coke formation in the steamcrackers furnace coils, DMDS contributes to extend the furnace running cycles and optimize the production capacities and yields with a responsible energy consumption. DMDS is also the sulfiding agent that provides the highest activity to your hydrotreatment catalysts, enabling to reduces the catalyst consumption and to run at lower temperature for the same performances.
Digitalization for real-time telemetry & communication for refineries
Arkema offers Carelflex®, an on-site sulfiding service carried out by highly qualified technicians, providing the technical and safety knowledge, as well as assistance you need for efficient, hassle-free catalyst sulfiding. Taking a step forward, Arkema innovates with a digital interface that eases live communication between the refinery control room and the Carelflex® team during sulfiding. The extensive monitoring that companions the Carelflex® digitalized skids enables better anticipation of potential issues, improves operation safety to achieve the highest catalyst activation and resume production on time.
Improving the steamcrackers production efficiency
Hydrocarbons exposed to elevated temperatures form coke, which can cause metal carburization and affect heat transfer and flow dynamics. In less than 15 minutes, enough coke is formed to require PDH and BDH unit shutdown and immediate cleaning and decoking. DMDS Evolution® E2 is the leading sulfur-based, coke suppression and metallurgy protection technology.