Thermoplastic composites: an alternative to thermoset composites
Thermoplastic composite materials boast outstanding characteristics, making them increasingly valuable in many sectors as a substitute to metal.

The objective is to develop lighter, less fuel-intensive vehicles emitting less CO2.
The benefits of composite materials
50% lighter than steel, 30% lighter than aluminum and remarkably strong, composites have many applications in the nautical and transport industries.
Composite materials consist of three elements:
a reinforcement charge: an armature, generally made of carbon fiber or glass fiber, which concentrates most of the mechanical properties of the finished part.
a matrix: a resin binder that permeates the reinforcement and solidifies.
optional additives: they improve the properties of the resin.
The matrix may be a thermosetting resin - also called thermoset - (epoxy and polyester in the main) or a thermoplastic resin.
Recyclability: the real asset of thermoplastic composites
Thermoset composites have the characteristic of hardening permanently thanks to a crosslinking mechanism; as a result, they cannot be transformed again or recycled. Thermoplastic composites provide real answers to remedy these limitations, as they are:
thermoformable and heat-weldable: the thermoplastic material softens when the composite parts are heated. These can then be shaped or welded (a process easy to control, avoiding the use of adhesives).
recyclable: it is possible to recover and reuse the material by melting it.
Because of all these benefits, Arkema's R & D is particularly interested in the development of thermoplastic resins for composite parts.
Elium®: resilience of a composite, recyclability of a thermoplastic
To meet the challenge of thermoset composites that cannot be remelted or recycled, Arkema's R & D recently developed Elium®, the only liquid thermoplastic resin on the market that can be processed in the same way as liquid thermoset resins with the same manufacturing processes: the parts obtained have mechanical properties identical to those of thermoset parts, with the added benefit of being thermoformable, heat-weldable and fully recyclable.

Car interior, body and body parts, hoods, sailboat hulls and floats, and even wind turbine blades: this new resin will revolutionize the composite industry in the coming years.
Go further:
Recycling composite materials: what are the possibilities of Elium® thermoplastic resins?

Fast RTM project
In partnership with the M2P Institute of Technology Research in Metz (France) and several French carmakers and automotive OEMs, Arkema joined the Fast RTM - Fast Resin Transfer Molding - Technology Platform in 2015.

This project demonstrates the feasibility of mass-producing automotive parts made of Elium® composite, at the speed of one part every two minutes, as required by automakers.
Go further - INNOVATIVE WITH
The second issue of our magazine INNOVATIVE WITH, that sheds light on our unique R&D expertise in innovative materials and on our collaborations with the greatest experts, is dedicated to our liquid thermoplastic resin Elium®.

This innovation is going to revolutionize the wind power, boat-building, hydrogen tank, and concrete reinforcement sectors.

But then, for the best testimonies, read our partners' and customers' opinions in this latest edition!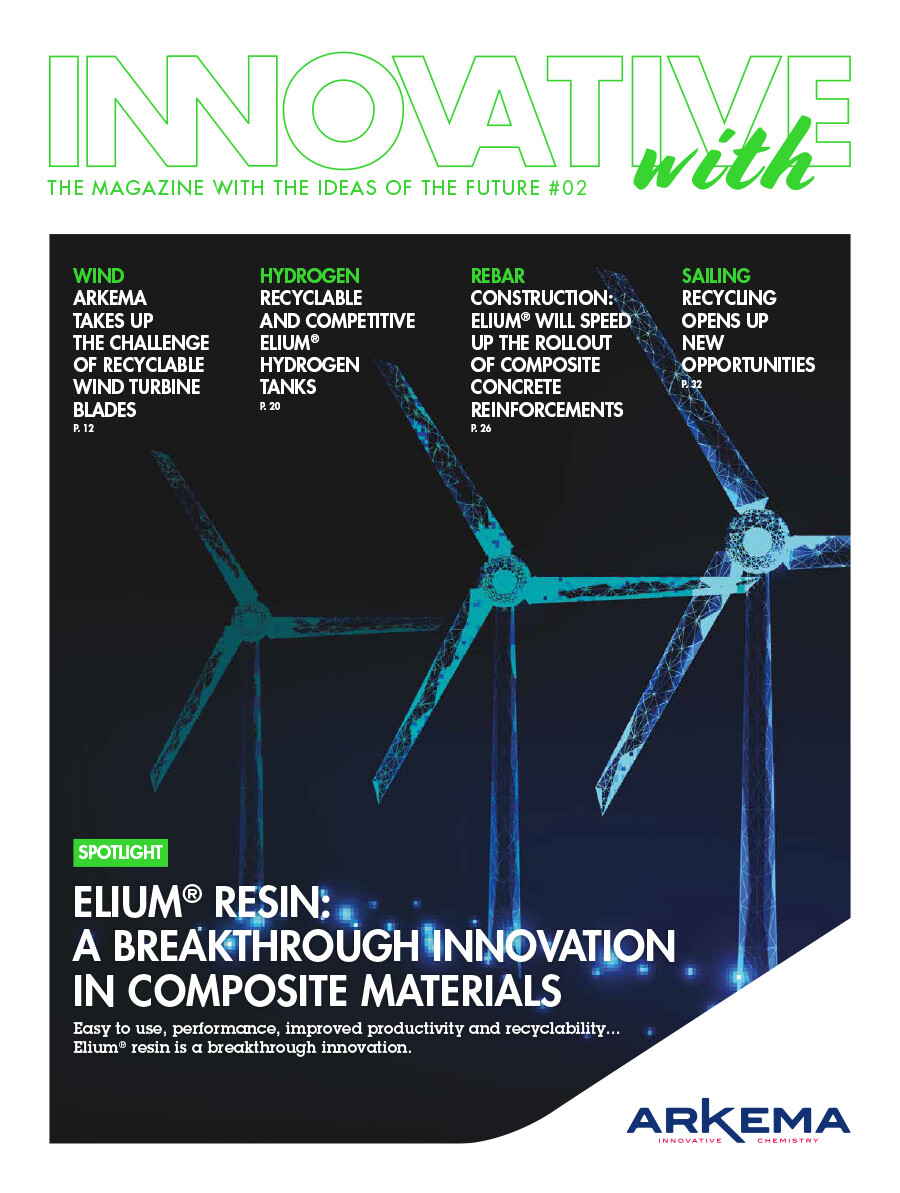 A new thermoplastic composite resistant to high temperature
With the support of the Canoé R&D center in southwestern France, Arkema has developed Rilsan® Matrix, introduced at the JEC World 2017 international composites event in Paris.

A new composite material for car manufacture, Rilsan® Matrix is a high-temperature-resistant polyamide ribbon reinforced with continuous carbon fiber and packaged in tapes and rolls.
Automotive OEMs will make composite parts by using robots to position the thermoplastic tape in preforms, then hot-stamp these in a press.

The benefit: the stamped part will withstand high temperatures and will enable carmakers to combine metal and composite parts in a single vehicle body.
By 2030, the carbon emissions cap for new cars in the European Union will drop from 95 grams to 59 grams per kilometer. To achieve this target, carmakers are designing lighter vehicles by replacing metal with composites. At once light, tough and, most importantly, recyclable, Arkema's thermoplastics are a part of this solution"
Developing the thermoplastic composites of the future
Aerospace is a market in which material lightweighting solutions are particularly in demand: reducing the weight of an aircraft by 1,000 kilos saves 6,000 tonnes of aviation fuel over its lifetime.
Combined with carbon fibers, PEKK thermoplastic resins help manufacture lighter components that are just as tough and sturdy as the metal parts used until now.
In order to forge ahead in this field, Arkema has joined forces with Hexcel, a company specializing in the aeronautics industry, with a view to setting up a joint laboratory and develop thermoplastic composite tapes for use in the manufacture of aircraft primary structural parts for next generation aircraft, such as fuselage.
Other Arkema's lightweight materials