Innovative co-development of 3D printing applications
Converting new applications to 3D printing requires close collaboration with machine manufacturers, software editors or end users. Arkema engages in this sort of collaboration and brings the best of its advanced materials and innovative chemistry to optimize part properties and surface finishes, or higher throughput.
Center of Excellence is a collaborative space for chemists, material engineers and printing experts to work together. We provide our material expertise and end-use application knowledge to drive the adoption of additive manufacturing in the advanced industries including aerospace, medical, dental and machinery and consumer goods. Our teams solve application-specific problems and focus on overcoming material challenges in order to help our customer to benefit fully from additive manufacturing technologies.
Global 3D Printing Centers of Excellence for each technology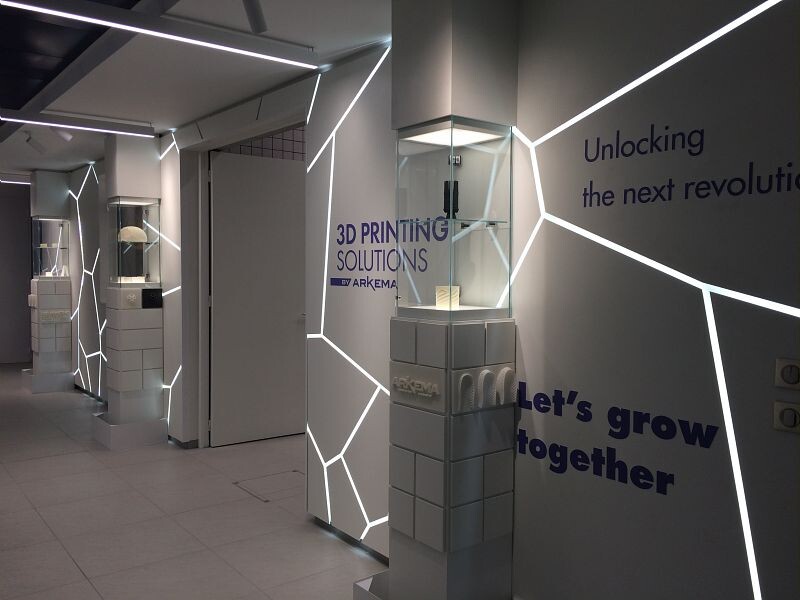 A deep understanding of end-user applications and needs
Thanks to Arkema's experience in highly demanding markets, we connect world class innovators in equipment production with end-users. We share our spirit of collaborative development globally, while supplying and servicing each customer locally.
A close connection with our customers has been the bedrock of our success.... which is also yours. As pioneers in extreme applications such as satellites and planes, world record-breaking sports shoes, the dental and medical fields, petrol transportation or the automotive sector, Arkema has grown its business in partnership with its customers. Challenges that are shared are solved faster. Some of the world's most famous end-user brands count on Arkema as their trusted partner and supplier.
Global Centers of Excellence for 3D Printing
Our network of Centers of Excellence are dedicated to collaborating with our clients and partners to develop and test new applications. Each facility is equipped with state-of-the-art printing solutions for all additive manufacturing technologies: powder bed fusion, thermoplastic filament extrusion and UV curing. A team of additive manufacturing experts works on perfecting the performance of advanced 3D printing materials in highly demanding industrial applications.
Exton Center of Excellence - radiation curable resins
Exton Center represents the UV curing 3D printing expertise of Arkema. Our engineers develop new applications developed and customized with N3xtDimension® resins.
The center is equipped with advanced 3D printing equipment including cutting edge wet chemistry labs, formulation development and testing facility, a wide range of analytical equipment, and multiple 3D Printers covering various photo-curable based printing technologies such as SLA, DLP and MJP printers.
Cerdato Center of Excellence - Thermoplastic Powders
Cerdato Center is a brand new facility that specializes in thermoplastic powders in powder bed fusion 3D printing technology.
The brand new facility is an open collaboration space equipped with the latest printing machines. Our team of material engineers develop applications that enable the production of lightweight materials with superior mechanical properties, complex geometrical forms, highly functional and customized parts.
KOP Center of Excellence - Thermoplastic Filaments
King of Prussia 3D printing center of excellence is a fully equipped, state of the art research facility with all of the processing, analytical, and printing equipment we need to perfect the extrusion printing process.
The team has successfully developed a collaborative network of global experts that work on real world additive manufacturing applications. Arkema experts help to ensure that 3D printed part with high performance thermoplastics perform under the most extreme conditions in industrial applications.
3D printing for industrial applications co-development partners
Customers of the HP 3D Multi Jet Fusion™ printer can print parts using new Arkema materials developed on HP's open platform.
Our partnership with EOS led to the development of Kepstan® PEKK powders, making mass-produced aviation parts possible that withstand extreme conditions.
With Prodways, we are working on the development of new Polyamides 12-based laser sintering material solutions for the automotive, aerospace and medical industries.
Partnership towards development of new material chemistries and supply chain models for Carbon's manufacturing partners.
Arkema has joined the Ultimaker Material Alliance Program, bringing very high performance polymers to the Cura Marketplace.