Innovative Materials, Arkema's R&D strategy
The R&D teams boast experts who carefully watch market trends, and relentlessly work at putting in place pioneering and sustainable solutions.
Their work revolve around 5 R&D platforms:
Arkema group R&D key figures
Collaborative research: Arkema, a partner of choice
Engaged in an open innovation initiative, Arkema is involved in many scientific and industrial partnerships, and networks on 60 collaborative projects.

Universities, start-ups and public agencies actively work to enrich the R&D with their expertise.
Arkema on campus
The Group gets involved on several campus, all over the world. Arkema has partnerships with Yamagata University in Japan, Donghua University in Shanghai, or the the Hanyang University in South Korea.
40% of which are European project
COSMOS aims to reduce the dependence of Europe's oleochemical industry on imported plant oils by turning camelina and crambe into profitable, sustainable, multipurpose, non-GMO European oil crops - see the press release (in FR).

The European consortium Consens involves sustainable and flexible production of high quality chemical products - see the press release.
Our public-private collaborative R&D projects
The French National Research Agency (ANR), The French Environment and Energy Management Agency (ADEME), or The Bpifrance (public company providing financing aid for innovative projects) work hand in hand with Arkema.
A prize for innovation in chemistry for sustainable materials
At the beginning of 2022, Arkema joined forces with the French Académie des Sciences to launch this prize, which is intended to reward scientists for scientific breakthroughs in the field of sustainable materials, i.e. materials whose life cycle and use will lead to major environmental benefits.

This prize will be awarded every year at a ceremony at the Académie's prestigious premises in Paris, and car ries a cash prize of €25,000.
Open Innovation steers our R&D to the best expertise."
INNOVATIVE WITH, our magazine "that connects the ideas of the future"
INNOVATIVE WITH is our magazine that sheds light on our unique R&D expertise in innovative materials and on our collaborations with the greatest experts - laboratories, SMEs, start-ups - in promising areas like new technologies and renewable energies.
This second issue is dedicated to our Elium® innovation, a liquid thermoplastic resin that is unique on the market: it makes it possible to manufacture fully recyclable composites. A first whereas traditional thermoset-based composites, widely used in many applications for their light weight and sturdiness, have the disadvantage of not being recyclable at their end-of-life.
This innovation is going to revolutionize the wind power, boat-building, hydrogen tank, and concrete reinforcement sectors. But then, for the best testimonies, read our partners' and customers' opinions in this latest edition!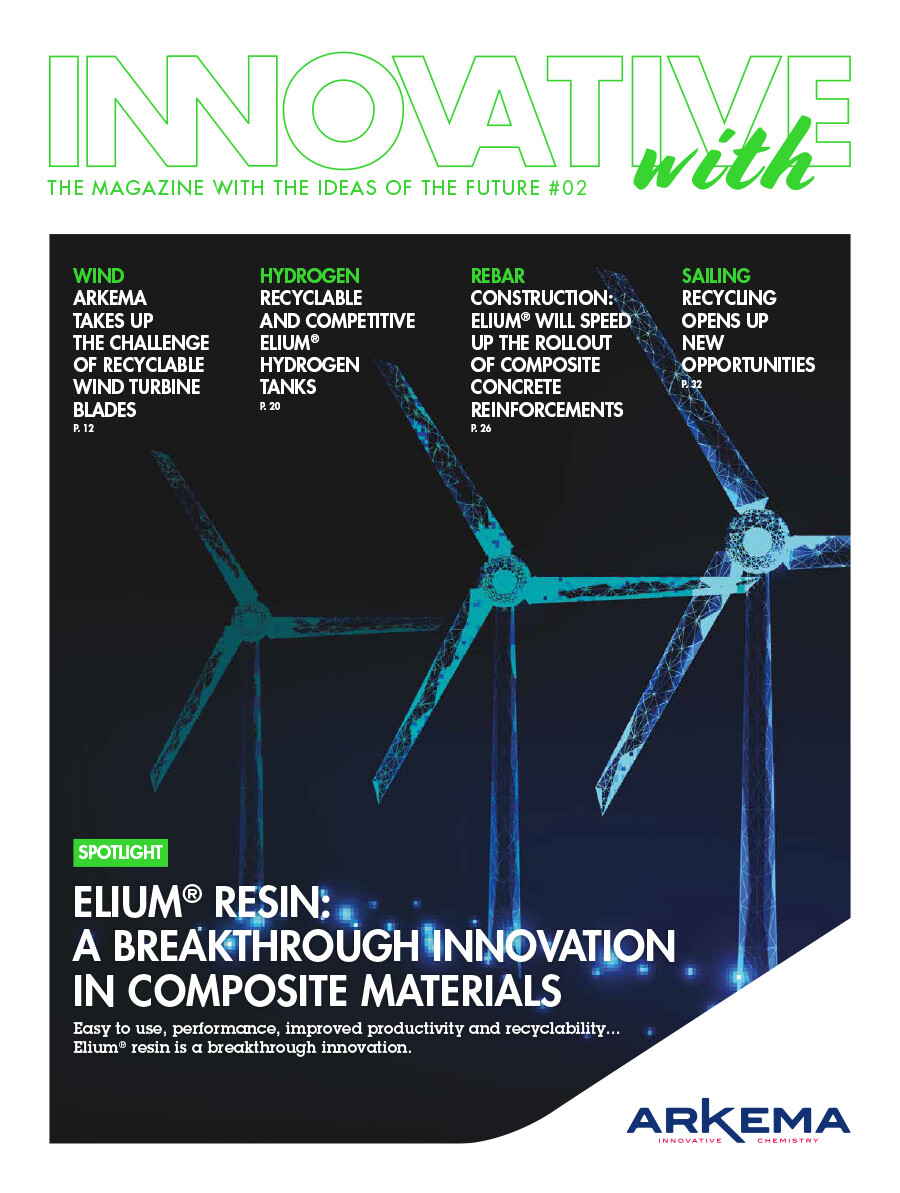 Previous editions:
This first issue is devoted to our electroactive and piezoelectric polymers. Materials with incredible properties that tomorrow will become an integral part of everyday life, as explained by our partners, and revolutionize the electronics, medicine or automotive sectors!
Passionate researchers at the heart of our innovation
Working across our fifteen R&D centers around the world (seven centers in France, four in the United States, two in China, one in South Korea, one in Japan), our 1,600 researchers are constantly developing new products and processes.
What unites them is a same passion for their job and their desire to design and devise materials and applications to serve the major societal and ecological issues. They also boast a wealth of talents and aspirations in their personal lives that feed into their research and development projects.
Their passion is what drives our innovation.
The incubator: enhancing high-potential innovations
The role of the "incubator" is to identify products with a high potential and bring them to fruition. Within this original structure with its own technical and financial resources, researchers and scientific directors are charged with developing nanomaterials and new generation polymers.
Graphistrength® carbone nanotubes, Piezotech® electroactive fluoropolymers, or thermoplastic resin Elium® are amongst the innovations which prepare the future of the Group, and are poised to completely transform many application sectors.