"Our sustainable offering is central in this context of a climate and environmental crisis"
Excellence in Corporate Social Responsibility (CSR) is a major issue for Arkema and its stakeholders. Combined with financial performance, it allows us to define the Group's sustainability model.
Committed from the beginning to creating social and economic value while preserving the environment, the Group has developed a strong policy of social responsibility supported by concrete programs and contributing to the UN Sustainable Development Goals.
We hear from Emmanuelle Bromet, Vice President, Sustainable Development.
Emmanuelle Bromet a chemical engineer by training. For 30 years she held management positions in industry and engineering at Axens and later at Air Liquide, before joining Arkema in 2019 as Industrial Director of the PMMA Europe business.
In 2021, she took over as Industrial Director Europe for the Coating Solutions Downstream segment, before being appointed on 28 July 2022 Arkema's Director of Sustainable Development.
What does your assigment involve?
Increasingly, our role as a manufacturer is to use our expertise and our innovation to contribute to a more sustainable world. Sustainable development includes social and economic progress for all, particularly to fulfill the essential needs (food, health, mobility, wellbeing) of a growing population, while drastically reducing its impact on the environment and the climate.
Business, starting with the big industrial groups, needs to play a major role in energy transition and the adoption of more resource efficient production methods. This is particularly true in chemicals, which provides the essential materials for all downstream industrial sectors.
With this in mind, we are moving well beyond regulatory requirements and have set our own voluntary targets. This is the purpose of our CSR policy, which we deploy throughout our value chain through three major commitments:
As part of this commitment, and in the context of the Covid-19 health crisis, Arkema took action for its employees and the local communities around its facilities. In addition to this crisis, which highlights inequalities, Arkema is committed to education and social inclusion through its philanthropic initiatives.
What are the main features of Arkema's Climate Plan, which was boosted in July 2022?
We are both in a continuum and in a strengthening phase of this agenda.
The Agreement ratified at COP 21 in 2015 aimed to limit global warming to "well below 2°C" and to pursue actions to limit it to 1.5°C by the end of the century relative to pre-industrial levels. Our previous commitment was aligned with a "well below 2°C" trajectory.
On 7 July 2022, we upped our level of requirement by aligning ourselves with a trajectory of 1.5°C, which, understandably, requires us to implement all existing levers.
This carbon trajectory will be accompanied by an investment package of some €400 million over eight years dedicated to reducing our carbon footprint! A considerable effort."
Our new commitment translates into a target of reducing our greenhouse gas (GHG) emissions by 46% by 2030 compared to 2019, regardless of our organic growth. This target is based on a Science Based Target (SBT) approach. It covers Scope 1 + 2 emissions while also comprising all of Scope 3 in order to take into account Arkema's entire value chain, by including in particular emissions related to our raw materials and the end-use of our products.
This carbon trajectory will be accompanied by an investment package of some €400 million over eight years dedicated to reducing our carbon footprint! A considerable effort. I would add that, as an industrialist, I am particularly committed to working on the operational dimension, because the factories have a key role to play in this ambitious carbon trajectory.
Scopes 1, 2 and 3 are a little confusing. Can you be more precise?
Concerning the various emissions Scopes, Scope 1 covers all greenhouse gas (GHG) emissions at our sites: direct on-site emissions, for example combustion in boilers, volatile organic compounds (VOCs) processed in incinerators, leaks, and diffuse emissions.
Scope 2, or indirect emissions, corresponds to GHGs emitted during the production of energy (electricity, steam, heat, cold) that we purchase and consume on our sites. It should be noted that if the steam is produced inside the plant, the emissions are accounted for under Scope 1.
Scope 3 covers the CO2 impact of the rest of the value chain, upstream and downstream of our sites, i.e. the impact of raw materials, transport, supply, the use of the products themselves until their end of life, waste treatment outside our sites, as well as emissions associated with personnel, premises, and capital expenditure projects. This explains why Scope 3 GHG tonnages are much higher than those of Scopes 1 and 2.
We are aiming for 85 million metric tons equivalent of CO2 (CO2e) by 2030 for Scope 3 and 2 million metric tons of CO2e for Scopes 1+2.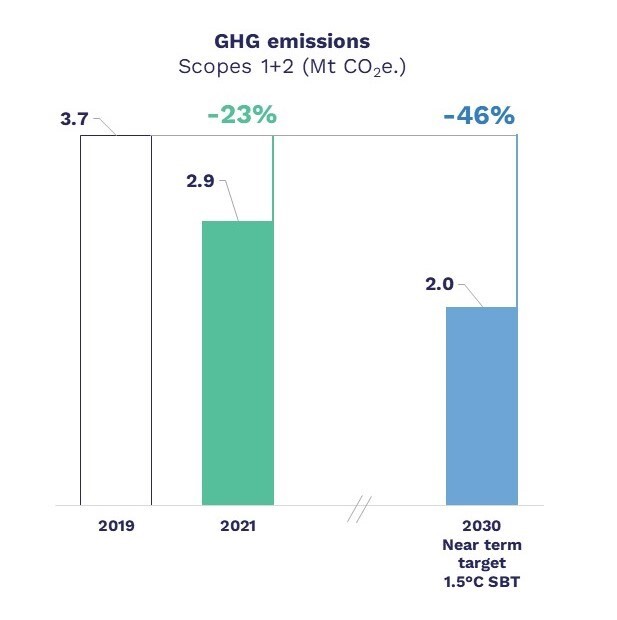 Direct emissions (scope 1) generated by the operations and production processes at our plants; and indirect emissions (scope 2) generated by the electricity and steam purchased for our plants.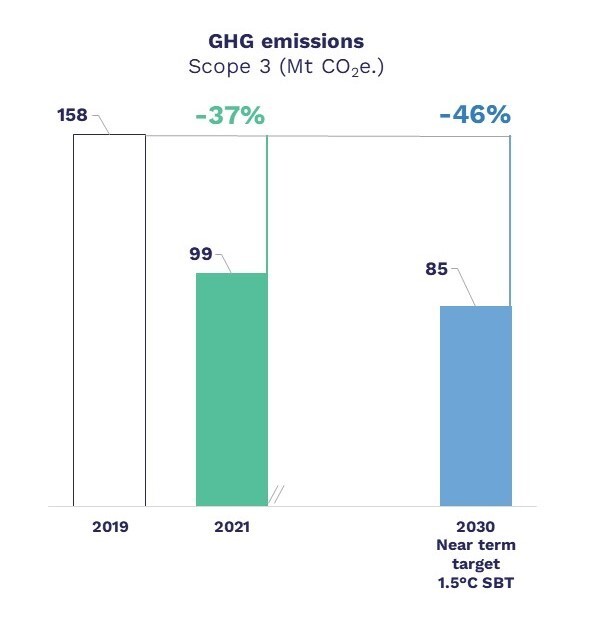 Scope 3 includes upstream and downstream activities (purchases of raw materials, goods and services, transformation, use and end-of-life treatment of our products, etc.)
What is the place of a sustainable offering?
It is central in this context of a climate and environmental crisis. In addition to our efforts to reduce our own GHG emissions, we are contributing more than ever to putting forward solutions that will help our customers reduce their environmental footprint through specialized materials that are lighter, biosourced, recyclable, etc. This is a real corporate marker that sets Arkema apart.
Sustainable development should not be seen as a constraint, but rather an opportunity to enable us, and our customers, to make the transition to a sustainable future.
One figure worth mentioning: 90% of our patents today meet the Sustainable Development Goals (SDGs) set by the United Nations!
Sustainable innovation is one of the ways in which we can reconcile these objectives and climate imperatives, contribute to society's efforts in the broadest sense, while providing our customers with solutions that contribute to their sustainable performance, as well as to the sustainable growth of our business. It's a winning formula for everyone.
Are we prepared for this challenge?
Arkema has set in motion on all these issues for several years now in order to create value while developing a strong corporate social responsibility policy underpinned by concrete programs that contribute to the UN's SDGs. We go far beyond the regulatory requirements and have set ourselves proactive targets. This is the very idea of our CSR policy, which we are rolling out throughout our value chain through three major commitments: offering sustainable solutions based on innovation, acting as a responsible manufacturer, and seeking an open dialog with our stakeholders.
The responsibility of the Sustainable Development team is to drive many of these themes. Work is already underway in our plants, within all BUs, but also with our suppliers and our customers. It should be noted that our customers are spurring us to step up. A virtuous interdependence is taking shape. Our 5 innovation platforms - lightweighting and materials design, solutions for electronics, new energies, habitat comfort and performance, and natural resources management - are genuinely driving this impetus.
90% of our patents today meet the Sustainable Development Goals (SDGs) set by the United Nations!"
I would add that in 2021 we made considerable progress with our ARCHIMEDES program, which is a systematic assessment of our sales portfolio in terms of its contribution to the UN's SDGs. We have set ourselves the target of achieving 65% of our sales at ImpACT+ by 2030, focusing in particular on sustainable innovation in both products and applications and on continuously improving our solutions.
All BUs have used this tool to draw up their strategic roadmaps to help gear their portfolios towards an even more sustainable offering. We are not alone in moving forward. Our customers in particular are, must be and want to be involved in Arkema's approach. This is especially true in post-industrial and post-consumer recycling projects. For us, this applies to all three segments, including technical polymers, with our Rilsan range for example, but it is also a reality in our adhesives solutions, with products such as the Nuplaviva ranges for the hygiene market, which are 50 to 75% bio-based, and also coatings, with Synaqua decorative paints for example, made from 97% bio-based raw materials.
All these products make a significant contribution to our sustainable offering. The impetus for a Sustainable Development Department like Arkema's is to ensure that a course is set and to get everyone involved in actions that are possible, controllable and manageable over time for a company like ours. That is also our reality.
What are you expecting from Arkema's 20,000 employees?
A change of vision, and a real commitment. In fact, the mobilization of all is crucial in the face of the climate emergency, and it is our responsibility and in the interest of us all to act without delay. We must all feel that we own the issue. All employees must take ownership of the message and be able to convey it.
Today Arkema has a real momentum on this issue. There are initiatives, and we need to share them more widely so that everyone can draw inspiration from them to develop their own solutions. Acculturation is clearly one of my goals. Everyone needs a better grasp of what the Company does so they can talk about it. This is also very important because there is a somewhat general search for meaning around this subject and these issues. Everyone wants and needs to understand what their company does in these areas.