Arkema in the loop of the circular economy
Arkema has made the circular economy a priority area by transitioning to the production of more sustainable goods and services, reducing the consumption and waste of resources such as raw materials, water and energy, as well as the production of waste.
Arkema's approach to the circular economy and responsible resource management contributes to United Nation Sustainable Development Goal 12 "Responsible consumption and production" and covers the entire value chain and is based on four main drivers: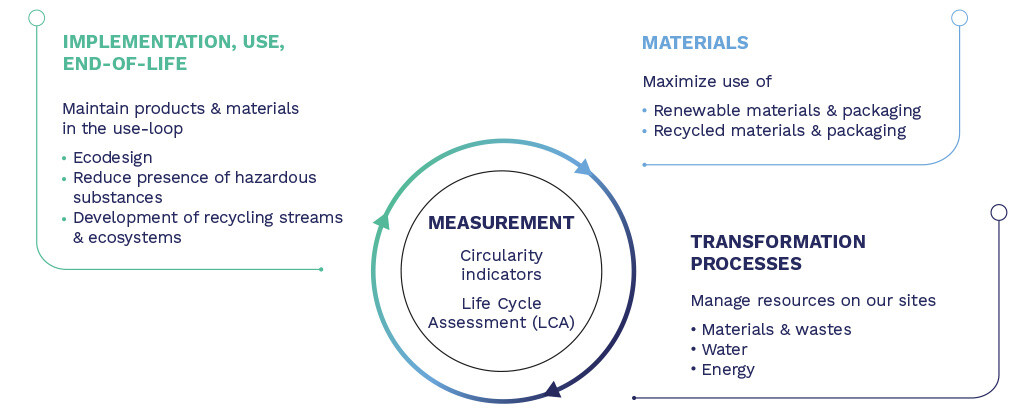 Arkema fosters renewable raw materials
A pioneer in the use of raw materials made from biomass, as illustrated by the use of castor oil to produce Rilsan® specialty polyamides, we promote the use of circular materials in our products and packaging, including recycled or non-virgin materials and materials from renewable sources.
These high performance polymers are used in a wide range of high value-added applications including automotive, electronics, optics, medical and water transport.
In 2021, approximately 10% of turnover was achieved with products whose composition is based on more than 25% renewable raw materials.
In addition, our activities are encouraged to apply eco-design principles, and more particularly the use of circular materials and packaging, right from solutions' initial phases of development.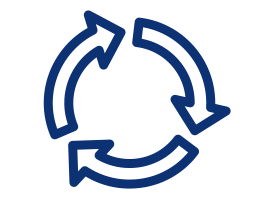 The circular economy in transformation processes
Arkema intends to deploys resource management best practices for raw materials, waste, water and energy at all its sites.
Development, use and end-of-life management
Arkema works with its partners across the value chain to design and develop solutions that help keep products and materials in the use loop.
We especially work on:
Eco-design
In cooperation with our customers and suppliers, we work for each of our business lines and technology platforms to identify the most relevant circularity drivers, such as optimization of the quantity of materials used, extension of product lifespan, separability of materials and components, recycling and degradability.
Reducing the presence of hazardous materials in our products
EnVia® resins range: for safer paints and coatings
EnVia® products contain no added alkyl phenol ethoxylate (APEO) surfactants, formaldehyde or formaldehyde donors and have a low volatile organic compound (VOC) content and low residual monomer levels. The EnVia® range enables Arkema's customers to formulate more health- and environmentally-friendly paints and varnishes, and facilitates access to ecolabels.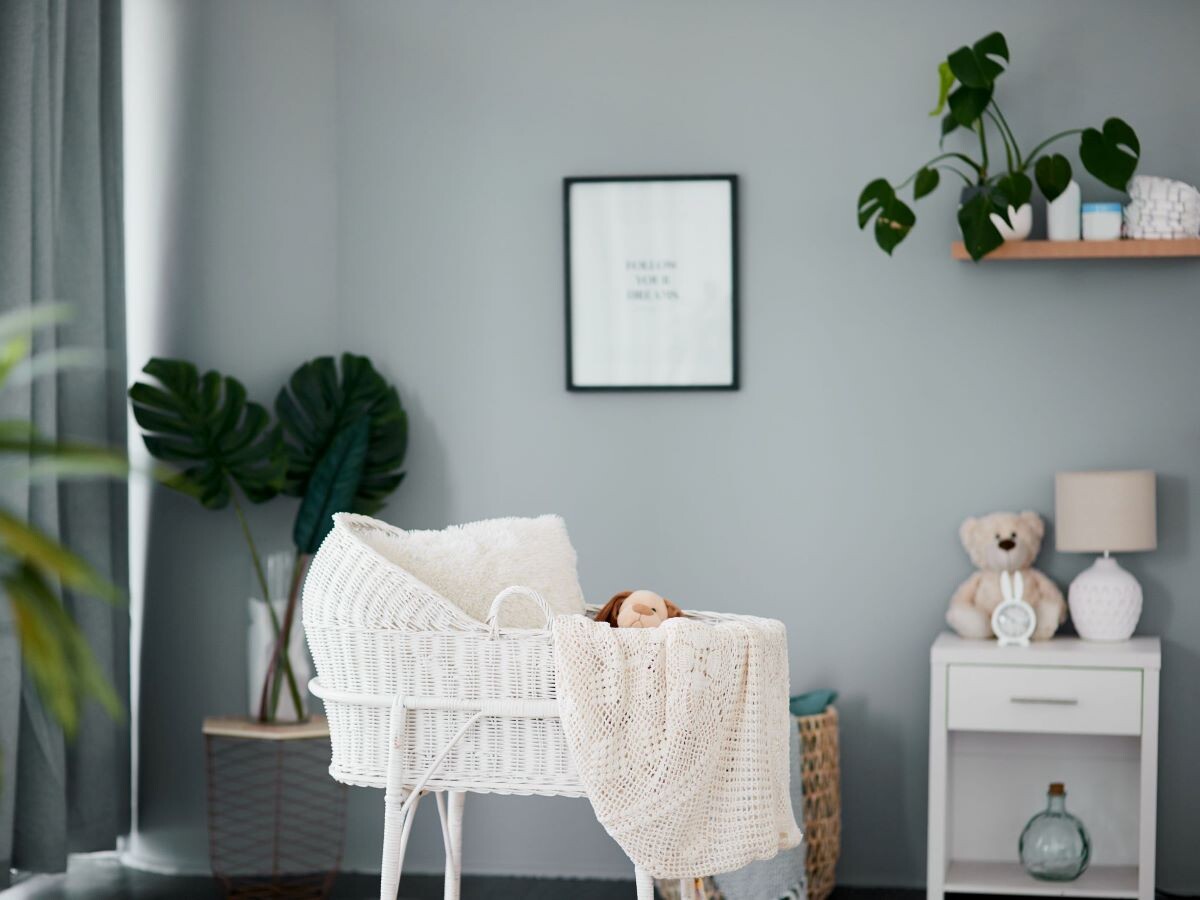 Extending the lifespan of customer products
Kynar® offers a coating of a particularly long life. Thus, Kynar 500® covers the N°1 court's roof of Wimbledon for more than 20 years. It protects the roof from external aggressions without the use of maintenance products harmful for the environment.
We have developed Kercoat® and Opticoat® technologies which reinforce glass bottles protection and allow to increase the number of reusing cycles of returnable bottles.
Foster our customers' products recyclability in particular by developing products which are easily recyclable
Elium® liquid resins replace thermoset resins epoxy type and are recyclable thanks to their thermoplastic properties
Cecabase RT® is an additive for bitumen which enables the increase of the recycled aggregate rate from 10 to 15% in the road pavements
In 2019 Arkema introduced Virtucycle® services enable our selected customers to partner with Arkema in open-loop and closed-loop recycling initiatives for post-industrial and/or post-consumer recycling projects for its specialty polyamides and PVDF resins.
Cyclon: the shoe you'll never own
Most shoes currently have a linear life cycle: produce-use-dispose.
Cyclon, launched recently by On-Running, is a subscription service for a pair of premium running shoes that are made from bio-based materials and 100% recycled at end-of-life.
This perfect combination of the circular economy and performance is the result of a partnership with Arkema and its "Advanced Bio-Circular" materials concept, which involves combining performance materials such as Pebax® Rnew®, made from castor beans, with the Virtucycle® recycling program, developed by Arkema for this category of polymers to help our customers manage their end-of-life products.
Life-cycle assessment as a measurement tool
A multi-criteria assessment
Greenhouse gases, energetic demand, soil use and many others are a part of the numerous assessments' criteria.
The environmental footprint is thus drawn in its whole part. Life-cycle assessment (LCA) strenghtening the efforts in the reduction of this footprint towards the biggest impacts while detecting eventual impact's transfers. For example, a reduction of greenhouse gases emissions could lead to an increase in water pollutant emissions. Those transfers' calculation help taking a decision.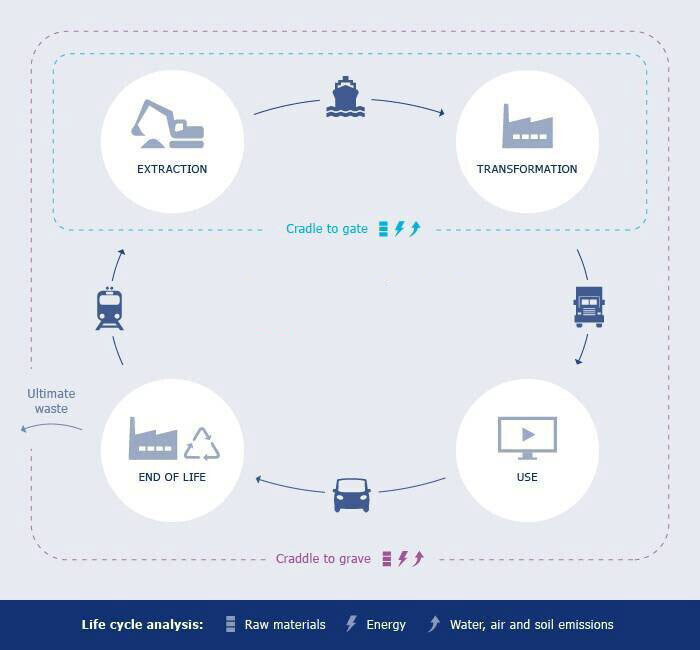 LCA is a tool that enables Arkema to:
give its customers solid information concerning the environmental performance of its products, thus enhancing their value,
provide a decision-support tool for company management, to inform its strategic analyses (R&D orientations, process improvements, etc.),
convey to employees a culture based on a holistic approach to environmental issues.