Hydrogen: Arkema's solution for carbon‑free mobility
The Hydrogen Council estimates that six million hydrogen tanks could be produced worldwide every year after 2030. For several years now, some manufacturers have been marketing hydrogen cars, while local governments have launched experimental bus lines.

"The basic technologies for fuel cells, storing and transporting hydrogen, are essentially ready. The key issue now is how to produce fuel in a carbon‑free way" explains Jean-Paul Moulin, Materials science Director at Arkema R&D.

While 96% of the hydrogen currently being used comes from the reforming of fossil‑based methane, renewable, water‑electrolysis production lines have yet to become economically viable.
We are closely monitoring progress in the industry and are already developing a set of dedicated solutions that will contribute to improving the performance and carbon footprint of hydrogen vehicles"
From tank shells to fuel cell exchange membranes, hydrogen mobility can rely on Arkema's materials and ideas to write the future.

Elium® composite tanks: manufacturing gains and recyclability
For the high‑pressure storage (700 bar) of on‑board hydrogen, current tanks are made of a composite based on thermoset resin (epoxy), which must be cured for several hours after winding.
Elium® liquid thermoplastic resin
, combined with carbon fibers, offers the same strength properties with much better industrial efficiency. Its polymerization under the effect of UV is carried out during the winding process,
saving considerable time and energy.
This technology, which could see its first applications for light vehicles on the market in 2023, also offers
excellent recycling possibilities for composite tanks at the end of their life
, while thermoset resins are still very hard to recover.
Kynar® PVDF: core chemical properties at the heart of batteries
Due to its high electrochemical stability, our
Kynar® PVDF
plays
an essential role as a binder in the formulation of the graphite double pole plates
that serve as a current collector, ensuring the cooling and transportation of gases. Arkema already sells significant quantities of its Kynar
®
PVDF for this application.
The Group is also developing functionalized Kynar
®
grades with
properties including advanced proton conduction, temperature stability and chemical degradation resistance.
These will boost the performance of the exchange membranes, which conduct protons within the battery, within the next four to five years.
Electroactive polymers: the safety advantage for tanks
The
fluorinated electroactive polymers of the Piezotech® range
, sensitive to shocks, deformations and acoustic vibrations, open up prospects for innovation with high added value for the safety of hydrogen vehicles.
Used to form sensors embedded in the composite layer, they can provide
a continuous monitoring function for the condition of hydrogen tanks
, which also allows manufacturers to size the structure as accurately as possible with regard to safety issues, generating raw material savings. Arkema expects the first launches of this application, which is still in the R&D stage, to be within the next coming years.
Rilsan® polyamide 11: bio‑sourced solutions for the liner and for winding
Rilsan® polyamide 11
, a 100% bio‑sourced high-performance polymer, has the qualities required to form the interior liner of high‑pressure tanks.
Impermeable to hydrogen, resistant to cold shocks
(the tank temperature may drop to -50°C in the event of rapid depressurization),
barely affected by temperature variations and easy to work with
, including for large parts (tanks for trucks, for example), it is already being used by several manufacturers.
Within the next two or three years, it will also offer a next‑generation solution for the production of carbon fiber composite tapes pre‑impregnated with Rilsan
®
fine powder, making it possible to form a tank shell that also acts as a liner by hot winding. It is an excellent choice for manufacturers as
it does not need to be cured after winding and requires less carbon fiber
(the main cost factor for tanks) than epoxy with the same resistance.
Go further: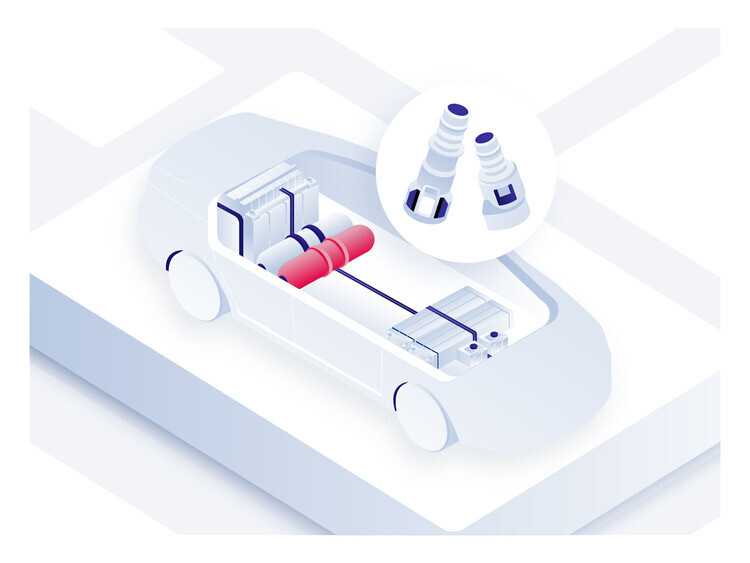 Our other innovations in new energies