12/09/2021 - 9mn
Recyclable thermoplastic composites sailboat construction project: skipper' story of engagement for sustainability
Sustainability and recyclability are today's key concern and main innovation driver for sailing communities. The leisure sailing market has a fleet of sailboats whose hulls and masts are not currently recyclable. As a sponsor of a trimaran Multi 50, Arkema has been striving for years to deliver recyclable material innovation to sailboat manufacturers. Our engineers work closely with Lalou Roucayrol skipper team to get feedback from the sailboat made with the composite with Elium® thermoplastic resins. We interviewed the skipper to learn about his experience with recyclable sailboat.
Skipper Lalou Roucayrol and his Lalou Multi racing team have been involved in the Elium® resin story from the beginning. With the creation of the Arkema 3 prototype, a monohull whose hull and deck are entirely made from Elium® and the new Arkema 4 multi-50, a true floating laboratory that also draws on the strengths of this resin, he gives us his expert view of a material that could revolutionize sailing.
"Within the Lalou Multi team, we work with Arkema engineers from the Lacq research center. They help us to design, build and improve our racing boat models. Our collaboration goes beyond sponsoring the team, and it is a privilege as a professional skipper to be able to interact with the people who make the materials. It is within this framework that we have been trialing Elium® resin since production began in 2014. In the space of six years, we have clearly identified the very attractive prospects of using this material in sailing.
We made 30% of the parts of our multi-50 boat from recycled Elium® resin".
Lalou Roucayrol
It all began with Arkema 3, a mini 6.50 built in 2016 with a view to being used in transatlantic racing. Apart from the mast and appendages like the keel, rudder and foils, the entire boat was made using Elium® resin, including the hull and the deck. This was the very first prototype sailboat made using this material, and the challenges were considerable: would the parts be as solid as the thermoset resin composites currently on the market? Would sailing performance be the same? This journey into the unknown was even more exciting given that Elium® resin promised something new compared to thermoset resins such as epoxy, polyester and vinyl ester, namely recyclability.
Because when you think about the end of life of thermoset composite boats—they are non-recyclable and end up being crushed, taken to landfill or recovered in the form of solid recovered fuels. Our many trials have proved conclusive. Arkema 3 has demonstrated equivalent mechanical performance to our epoxy models, the top end of thermoset resins. Elium® resin even offers a slight advantage: it is slightly more resilient to the impact of waves, chunks of wood, etc., and returns to its original shape without losing its mechanical qualities in terms of energy recovery. Once performance is established, the boat's end of life needs to be taken into consideration, and Elium® resin stands out as revolutionary for the sailing industry and even shipping vessels.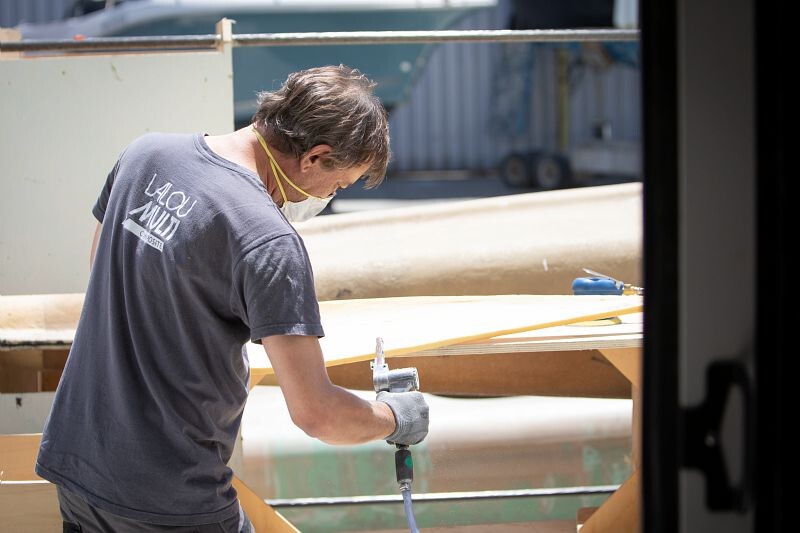 On the back of these encouraging results, we have designed and built Arkema 4, another trimaran prototype using Elium® resin. The aim was to show the market that the technology was viable from A to Z, as well as the exceptional and unique recyclability of this resin. We made 30% of the parts from recycled Elium® resin. The arm molds, for example, were made from Elium®-based composite materials. They were cut and then crushed before the depolymerization and purification stages, which allowed the monomer to be recovered. This was used to formulate a new "recycled" Elium® resin with unchanged properties. The regenerated resin was introduced into the construction process to create new composite parts. This is the case for the cockpit, the deckhouse* and part of the front outrigger arm fairing, areas where resistance to impact are valuable, and which were made using recycled resin.
*All parts located above the hull (deck, gangway, helm etc.).
Producing racing yachts responsibly without compromising over performance".
Lalou Roucayrol
This world first was achieved in late 2020 and was a turning point. Use of this material in yachts is now taking off but it could also be used in commercial boats such as cargo boats, making them lighter with an aluminum hull and a superstructure** made from Elium® composite material. The outlook is therefore very encouraging for our industry, which will be able to begin sustainable production once it has got used to this new resin."
**Superstructure on the deck of a vessel corresponding to the cabin "roof".