01/18/2021 - 6 min
Recycled and returnable, there's a future for glass bottles
Glass bottles have become the mass-market containers that come closest to a circular economy. Arkema is extending their lives, and focusing on one market in particular that weighs heavily on a global scale: returnable beer bottles.
1,960 million hectoliters: the amount of beer consumed worldwide every year… 42% of which is sold in returnable glass bottles. "Deposits are mainly taking off in the southern hemisphere, especially Latin America and Asia but also in South America or Germany, where this is how most beer is sold", says Ines Khalfallah, Business Manager Glass Coatings. "They are falling out of use in northern countries, where producers gamble, successfully, on collection and recycling."
In all cases, returnable beer bottles are still the container whose production generates the lowest carbon emissions, ahead of aluminum and PET (polyethylene terephtalate) so we need to look after them, especially since the global supply of sand, the raw resource of glass bottles, is falling. And this is what Arkema's Glass Coatings activity is for.
Thus, for manufacturers of glass bottles, the range of Certincoat® coatings is the most popular in the world for improving the solidity and the impact resistance of new bottles. Arkema offers real expertise and a unique offer on the market. The Group not only provides hot and cold spray coating solutions on the bottle production line, but also the industrial spray hoods and guns required for their application, and a whole set of integrated services. The teams provide assistance in the installation and maintenance of this equipment, provide training and carry out technical audits, intended to verify the correct use of glass solutions coating or to suggest process adjustments.
Up to 50 cycles of use
As for returnable bottles, Arkema works with local bottlers (brewers, producers of mineral water, carbonated or non-alcoholic) by offering them two complementary glass protection ranges that considerably improve the appearance and the extension of returnable bottles life cycle.
The Kercoat® covering delays the appearance of fissures and white scratches; used after every wash, it can extend the use of a bottle to 50 cycles, compared to 20 traditionally.
And Opticoat® emulsion reduces the appearance of fissures and marks, which makes the containers more attractive.
"The two solutions can be used either separately or together, depending on the individual bottler's strategy", says Ines Khalfallah. Like the Petropolis group, number three in the Brazilian market, which opted in 2019 to apply the Opticoat® solution to its Premium range, showing that it is possible to improve the user experience by making bottles look almost new, even as part of a economic and sustainable drive by preventing (re) throwing away scratched bottles.
What is the difference between "recycling" and "revalorizing" a glass bottle?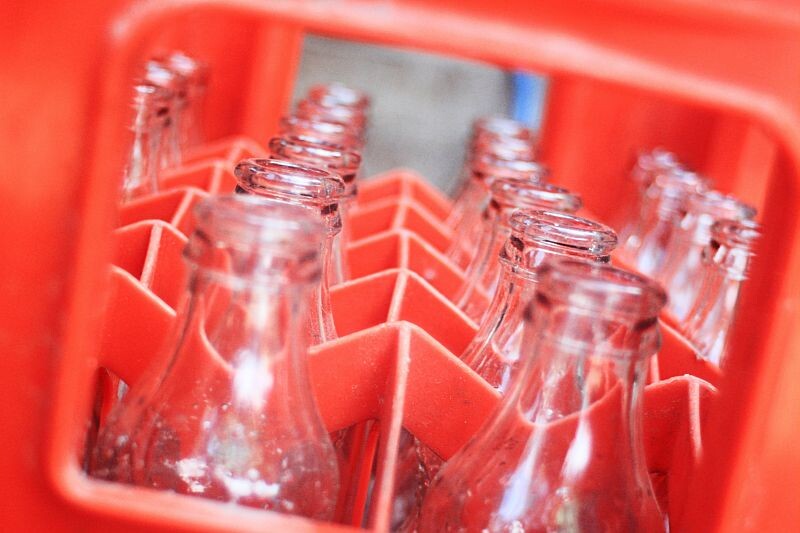 Recycling a glass bottle is certainly an eco-responsible act. But melting back at 1500°C a bottle that has been used just once represents a significant amount of energy. Revalorizing, based on the returnable principle, is therefore the most sustainable and ecological solution if the collection circuits are well organized and the redistribution circuits are short, less than 200 km! Glass, a non-degradable material par excellence, can be used many times, between 20 and 50 cycles, i.e. up to almost 6 years. Thus a recent analysis by ADEME organisation in France showed that the carbon footprint of a bottle reused over 20 cycles compared to a single-use bottle was much better: a returnable glass bottle can emit up to 90% less greenhouse gases (GHG) than a single-use bottler over its entire life cycle.
Industrial washing and high quality spec requirements guarantee bottles "as good as new". The benefit is twofold: smaller ecological impact and lower purchasing cost for filling contractors.
See also
Back to all articles
Drinking water: an efficient membrane filtration that uses less energy thanks to Kynar® DH 100 PVDF
07/30/2020
Arkema takes up the challenge of the circular economy with its high performance polymers
03/17/2021