Oct 22, 2019 - 4 min
Saving 30% in air conditioning costs thanks to cool roofing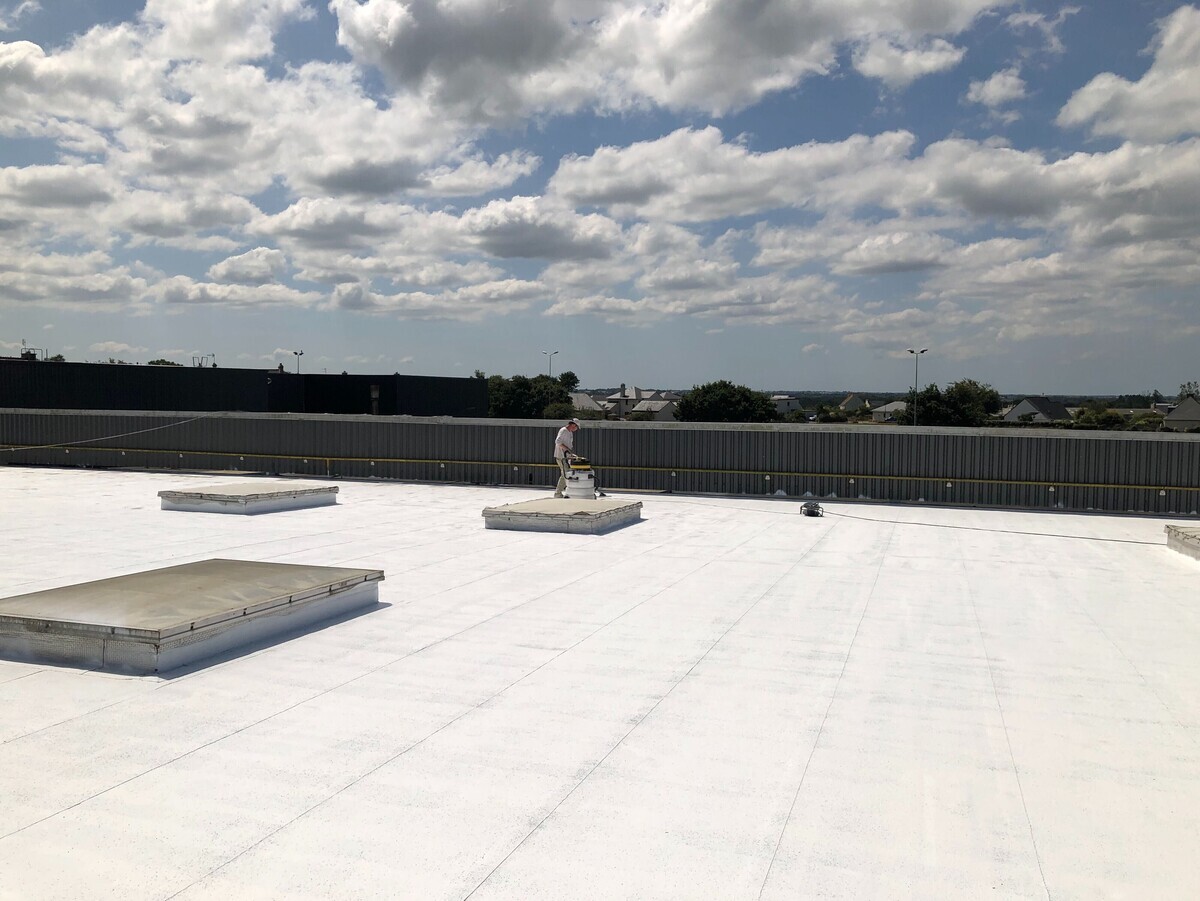 With 2019 being a record-breaking year for heat, cool roofing is emerging as an efficient and economical solution for lowering building temperatures and costs for air conditioning. The idea is simple: a white roof coating that reflects the sun's rays during periods with lots of sunlight. Many building roofs can be converted into cool roofing.
Whitewashed houses remind one of the striking beauty of the Cyclades in Greece. White lime was not chosen randomly. Its purpose was to reflect the sun's UV rays and cool the inside of the homes. "Everyone knows that a light color absorbs less heat than a dark color," says Antoine Horellou. "We didn't invent anything! The idea with cool roofing," continues the CEO of Cool Roof France, "is to reduce heating of a building roof thanks to the reflectiveness of its coating. It thus becomes cooler than the ambient air. This is why we chose the name 'cool roof.' The resulting decrease in air conditioning needs can represent up to 30% of the energy bill. And for areas not air conditioned, the comfort of the interior is of course improved."
The solution is so effective that the Intergovernmental Panel on Climate Change considers it "one of the fastest and least expensive ways to slow global warming." The IPCC has calculated that "painting roofs white would save 1 Gt/year of greenhouse gas emissions, the equivalent of 250 million vehicles worldwide!" There is an urgent need to take action, as 2019 is turning out to be one of the hottest years on record. This summer, Paris experienced unprecedented high temperatures, with 42.6°C (108.7°F) recorded on July 25.
United States, pioneer of white roofs to avoid urban heat island (UHI)
This concept of cool roofing is already widely applied in the United States. In fact, the "Cool Roof Rating Council" was created there in 1998. This non-profit organization aims to implement and communicate a precise system for the evaluation of radiative energy performance of roof surfaces, in addition to supporting research. New York already has more than 850,000 m² (9,149,324 ft²) of white roofs. This is the result of a campaign that started in 2010 led by its ex-mayor, Michael Bloomberg, who was highly invested in the fight against climate change. It should be pointed out that the Big Apple regularly experiences blackouts caused by overuse of air conditioning. As a result, peaks of 80°C (176°F) measured on the surface of standard roofs have been cut in half during the hottest hours of summer thanks to white roofs, which reduce the temperatures in the buildings by 20°C (68°F)!
For more than five years now, everywhere in Europe, with France in the lead, works of cool roofing are being done in a number of geographical zones with varying sunlight on public buildings, shopping centers, warehouses, etc. The city of Paris with its new Air Quality, Energy and Climate Plan (the "Plan Climat Air Énergie") is even trying to "reinvent its buildings and roofs to adapt to heat waves." Observing that Parisian roofs usually use conventional dark-colored sealing (zinc, bitumen), which accumulates the heat transmitted both in the building and around, the authorities are recommending painting roofs with paint having reflective properties to contribute to a reduction of the UHI (urban heat island) effect.
Cool roof projects with spectacular results
In France, the Cool Roof company was established in 2015, by three entrepreneurs convinced of the effectiveness of cool roofing after having carefully observed New York's example. That very year, the start-up from Brittany landed its first deal in Quimper, covering the 7,000 m² (75,347 ft²) surface of a Leclerc shopping center. "Our client wanted to reduce its energy consumption, in particular from air conditioning, and limit heat in the hypermarket. The data collected indicated a 15% reduction in the building's energy consumption, equal to nearly 4 metric tons of CO2 equivalent per year, and annual savings of €20,000 on energy. Other benefits include decreased maintenance costs and a longer roof life." Since then, some fifty clients have solicited the company's services. They include the Boulanger shopping center in Amiens, the 2G terminal at the Roissy-Charles-de-Gaulle Airport in Paris, the fire station of Paris in Villeneuve-Saint-Georges, the Berlemont gymnasium, and the Adamant floating hospital, also in Paris.
In 2018, Cool Roof France completed the largest reflective roof in France on the Géant Casino of Valence-Sud, with 18,000 m² (193,750 ft²) painted white. This building, too, has had impressive results: the hypermarket recorded temperatures up to 36°C (96.8°F) lower on the roof after treatment and has seen a drop of 12% in its overall energy bill! Encouraged by this success, the Casino group launched a bidding process for the deployment of cool roofing on other buildings suffering from problems caused by high temperatures.
A reflective roof to avoid air conditioning
Cool roofing can also be used to avoid investing in costly air conditioning. Aximum, another company providing cool roof paints and a subsidiary of the Colas group, completed a project in Oise on an R&D site of Bostik, which manufactures glues and adhesives. As Jean-Baptiste Izart from Aximum explains, "this reflective coating applied to 1,000 m² (10,764 ft²) limits the impact of solar rays on the facilities and improves thermal comfort in the summer, since we are in a building without air conditioning. The first measurements indicated temperatures lower than 25°C (77°F) on average in August, with peaks at greater than 30°C (86°F). The following summer, after the application of the white paint, we had almost no days when the inside temperature exceeded 25°C!" the expert from Aximum shared with us.
Another example is the Louis Blanc school in the 10th arrondissement of Paris, where Cool Roof France installed a white roof. The measurements taken measured the average variation in inside temperature, comparing a "cool roof classroom" to its conventional neighbor. The result showed less than 6°C (42.8°F) of difference and the elimination of periods of discomfort in the summer (above 28°C [82.4°F]).
A white paint that reflects 95% of the sun's rays
The quality of the white coating remains crucial. Cool Roof France thus relied on Arkema's expertise in improving their application process: a water-based white paint, highly reflective, protected by a resin-based anti-UV and anti-mildew top layer using Kynar Aquatec® PVDF. This highly resistant fluoropolymer developed by Arkema in the United States has been widely used, in particular on buildings in hot states such as California, Arizona, and Nevada. The impermeable top coat made of Kynar Aquatec® considerably improves the effectiveness of the white roof and extends time between renovations. The result: 95% solar reflectance—whereas traditional paint reaches only 70%—for many years.
The sun's infrared and ultraviolet rays end up gradually disintegrating a simple white paint. You then have to repaint the roof often, which quickly becomes costly. The Kynar Aquatec® top coat avoids this phenomenon; you get a coating with an effect similar to an oilcloth. Thus, the rain naturally cleans any deposits of pollution and soiling that 'blacken' the roof and diminish its reflectance".
Bertrand Dinelli,
Kynar® expert at Arkema for the building market
Cool Roof France confirms: "This formulation ensures a durability of at least 20 years. The recommendation is one cleaning per year, but for the Leclerc roof in Quimper, the first cleaning was not required until after three years!"
Cool roofs are becoming popular all over the world. "In France alone, flat commercial roofing makes up about 5 million m² (53,819,552 ft²) of roof surfaces," estimates Cool Roof. "Most of them are more than 10 years old, poorly insulated, and full of micro-cracks. Their renovation with the use of cool roofs is increasingly recommended by project owners, architects, and engineering firms. It's clearly a sign. We are also calling for the implementation of a large-scale cool roofing plan, to create a system for registration/certification of this technique in metropolitan France and the overseas territories." Changes in regulations are paving the way. Just take the example of the national decree for the tertiary sector of July 23, 2019, requiring all businesses with surface areas greater than or equal to 1,000 m² (10,764 ft²) to reduce energy consumption by 40% by 2030 with respect to 2010.
Developing energy intelligence with cool roof technology
The Brest-based company is making use of its clients' empirical data to educate prospective clients: "To prove that it works, we have instrumented cool roofs using heat sensors and air conditioning consumption control." There is still more educating to be done. "We often go about doing things the wrong way. You're at the beach and you're hot. You're not going to start by putting an air conditioner next to yourself. You're going to start by moving into the shade! The same goes for a building. You have to start by addressing the source of heat, in this case solar radiation. The solution of air conditioning is nearly systematically selected since people think it has a bigger direct impact. It isn't always appropriate. We help our clients perform energy assessments in their buildings and hope to show them that cool roof technology contributes significantly to improving them. We're developing energy intelligence!"
See also
Back to all articles
Elium® thermoplastic resin for FRP rebars: how material triggers a chain of key innovations in construction
Dec 7, 2021