04/08/2021 - 3mins
Semi-crystalline Kepstan® PEKK Seals via Fused Filament Fabrication on the miniFactory Ultra®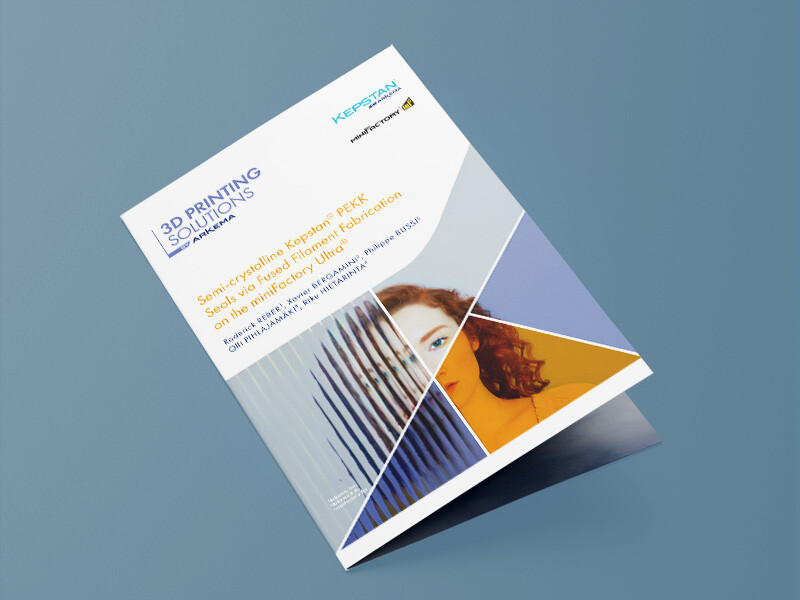 Introduction
Additive manufacturing is increasingly becoming a relevant alternative to conventional plastic processing methods such as injection molding or stock shape machining. As designers and engineers more widely embrace additive manufacturing, there must be a focus on the economic justification of this new process, in addition to meeting the requirements in the end-use application.
High performance materials such as semi-crystalline polyaryletherketones (PAEK) are no exception to this trend; however because these materials are only used in very demanding applications, there cannot be any compromise on the performance of additively manufactured parts. The need for inter layer adhesion has mostly limited the process to amorphous polymers, which lack chemical resistance, high temperature mechanical properties, and creep resistance. Semi-crystalline polymers are more challenging to print as crystallization competes with interlayer diffusion.
Kepstan® PEKK and more efficient material use
The tunable melting point and crystallization of Kepstan® PEKK enables a wide range of processing methods. Among PAEKs, Kepstan® PEKK is uniquely positioned as it lends itself to both powder bed fusion2 and material extrusion3; it is also suitable for 3D printing with composites. With low capital costs, mechanical simplicity, and design flexibility, FFF is opening a new frontier in small batch manufacturing with polymeric materials. With near net-shape processing, additive manufacturing reduces material waste significantly when compared to conventional machining operations.
Experiment and results
Arkema and miniFactory have collaborated to develop materials and processes to 3D printing functional objects made of in semi-crystalline Kepstan® PEKK. In this white paper we will present the equipment, method, and results.
Key takeaways:
Additive Manufacturing of very demanding applications: low capital cost and efficient use of materials
Additively Manufactured Semi-crystalline PEKK vs conventional PEKK seals: performance and mechanical properties comparison
The outcome: High quality and reproductive result of mechanical properties of AM PEKK with miniFactory Ultra 3D Printer.