Nov 12, 2020 - 5 mn
Producing battery cooling lines for hybrid and electric vehicles with Rilsan® PA11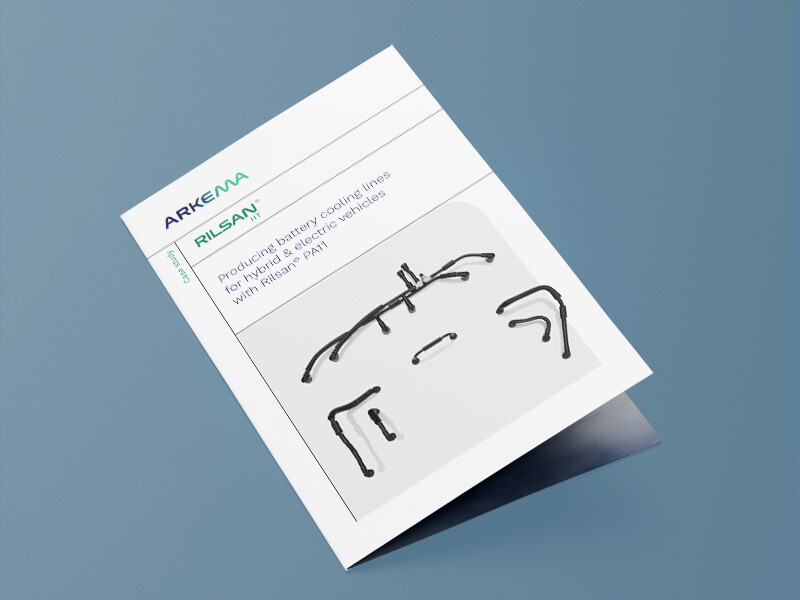 Introduction
Korea has been at the forefront of the development of electric vehicles. For the cooling of high power components such as batteries and invertor-convertors of these HEV and EV, a complete and robust value chain has been established. Boogook, Hwa-young and TI Fluid Systems are among the key players in this segment that are able to supply high performance lines. With almost 10 models of passenger cars, commercial trucks and buses, and many more to come, more than 100,000 vehicles will be produced each year, representing almost 1,000,000 m of plastic tubes!
Plastic lines have been selected by car manufacturers in order to save cost & weight. Very satisfied with the use of Rilsan® polyamide 11 for in-battery application, several OEMs officially approved it and now intend to generalize its use to other parts such as out-battery or invertor-convertor lines.
Case study summary
Industry: Automotive
Application: Water cooling lines of high-voltage battery or AC/DC converter
Objective: Still many automotive water-cooling lines are made with rubber. Rubber is very flexible and can resist various levels of mechanical stress and chemical aggressiveness but it is very thick (~3.5-4 mm) thus very heavy (~ 250-300 g/m) and very cumbersome. Plastic only needs 1 to 1.5 mm thickness and is thus much lighter (~ 50-80 g/m) and easier to fit in automotive always tighter spaces. For complex parts with a sufficient length to adapt plastic's higher stiffness, Rilsan® polyamide 11 allows to design very light solutions, with high performance & lower cost.
Production technology: Extrusion with mechanically inserted (fir tree) quick connectors
Material: bio-based Rilsan® Polyamide 11 sourced from sustainable castor plant
Partners:
Boogook www.boogook.co.kr,
Hwa-young www.hwa-young.co.kr
TI Fluid Systems www.tifluidsystems.com
This case study explains the challenges in high power components cooling in HEV and EV faced by key players in this section in Korean automotive industry. We explain how advanced materials help to solve the issues to achieve superior performance of next generation vehicles.
See also
Back to all articles
Expansion of additive manufacturing: 5 cases of industrial application
Aug 5, 2019
Arkema takes up the challenge of the circular economy with its high performance polymers
Mar 17, 2021