Returnable glass bottles coatings and processes - Kercoat® - Opticoat®
What is a returnable glass bottle?
The "Odyssey" of a returnable bottle
After its first use, a returnable bottle has to go through a washing process with hot caustic used by fillers. Hot and Cold-end coatings are washed off successively and scuffing is generated every cycle by constant filling, washing, shipping, and stocking on shelves in consumer stores. This is why the overall appearance in the lifetime of a bottle will depend on the caring solutions you choose.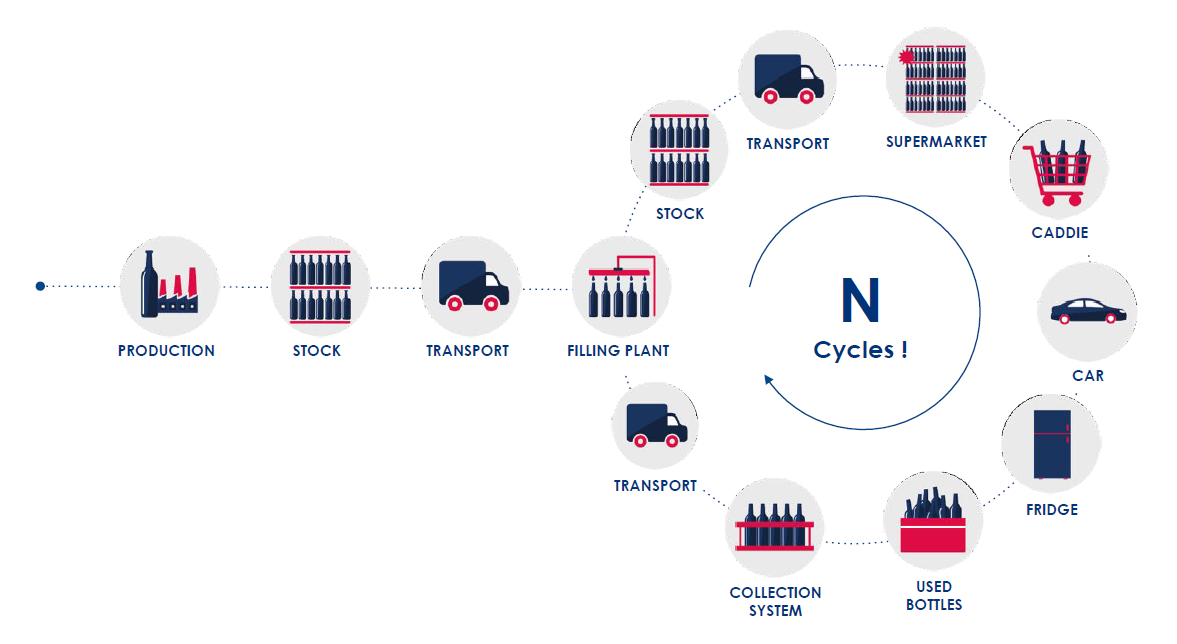 The aesthetic of your bottles is the heart of our expertise and our technologies are the solutions to place packaging in the center of your brand strategy. Moreover, it is also a commitment to final consumers who have first contact with your product.
Packaging strategy is critical in the beverage market across the world. Returnable glass bottles offer advantages on environmental impact and cost among others. Kercoat® protective coating will prevent returnable bottles from scuffing, scratching, and wearing even up to 50 cycles of filling.
Kercoat® is designed to fit into the life cycle of returnable glass bottles by:
Brings protective coatingafter caustic washing process
Extends bottle aesthetics over time thanks to its anti-scuffproperties
Reduces friction and damage during bottle to bottle contact
Reduces costsof bottle pool over time
Keeps burst pressure strength at higher level for considerable safety aspect
Bringslubricity on the bottles and increases productivity.
Beverage manufacturers need a solution to keep returnable glass packaging looking new, even after many cycles of filling and shipping to customers. Brand image depends on having a bottle look clean and free of scuffing or cracking. To help the bottle survive the returnable life-cycle, Arkema developed the Opticoat® technology. Opticoat® masking coatings are designed to:
Mask scuffing rings and help bottles appaer "new" by providing a nice and shiny look and feel
Offer competitive advantage over uncoated bottles
Function well on dry or cold and wet bottle surfaces > Opticoat® 140/150
Survive harsh storage and transport conditions.
Technical support for returnable glass bottles
With Arkema, you can test our coating solutions on your returnable bottles. You just have to send us your bottles and see the results. Our lab is fully equipped:
Caustic washer to simulate the washing machine of your plant
Line simulation machine which simulates a lot of cycles to check how our Kercoat® 500 can protect your bottles after more than 25 cycles
Burst pressure tester
Finally, we also check your labels performance on the bottles coated with Opticoat®.


Webinars: Returnable
Arkema experts hosted training modules in glass coating technology for Returnable: Fundamentals / Intermediate. If you did not have the possibility to attend to one of our webinars, you still have the possibility to ask for the teaching supports to learn more about the technics in glass coating. Feel free to fill the form below: