07/08/2019 - 4mn
Pebax®, champion material for the FIFA Women's World Cup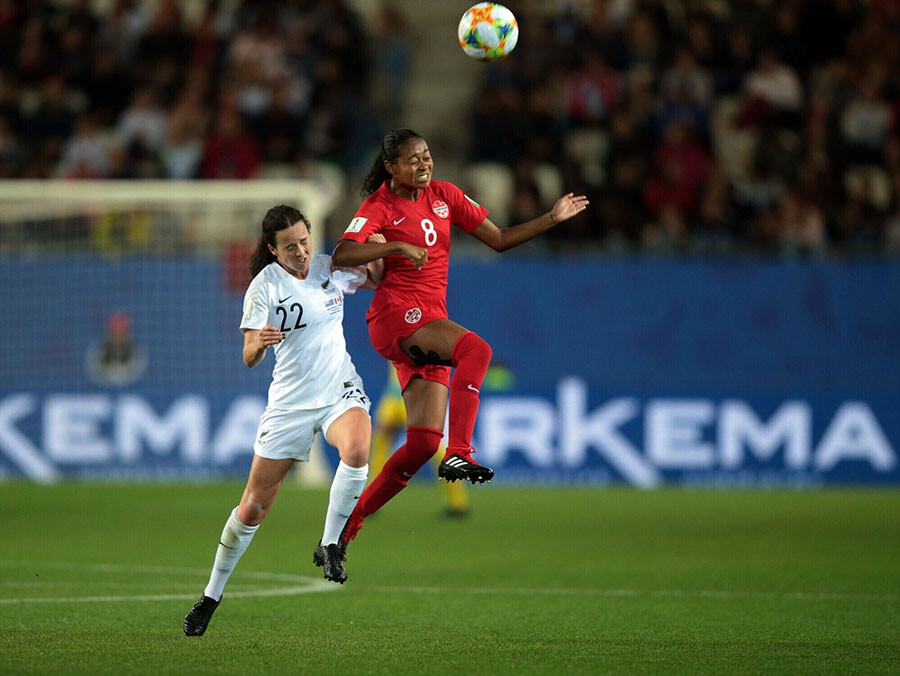 Over the last month, the players from the 22 qualified nations have put women's soccer center stage during the FIFA Women's World Cup France 2019™, of which Arkema was a sponsor. Quick, light on their feet, competitive: they have captured the public's heart. These athletes have showed off their undeniable sporting prowess, boosted, for some of them, by their footwear and their Pebax® soles, made from elastomer that has remarkable characteristics. Let's take a closer look at a material we have not heard the end of in the world of soccer and sport in general!
60% of the 552 players in the FIFA Women's World Cup were wearing shoes made of Pebax® materials! "So what?", you might say... "What difference does that make?" According to the statistics, this is not insignificant. Throughout the competition, 57% of all goals scored and 74% of passes completed were from players wearing Pebax® shoes. And for the USA team, the current holders of the World Cup, the figures are even more revealing: 69% of their 26 goals were scored by players wearing shoes with Pebax Powered® soles.
But what are the actual benefits of this miracle material? The answer is threefold: lightweight – elasticity – energy return:
Lightweight: since Pebax® material is low in density, it allows to make shoes 20% lighter than when we used traditional elastomers such as TPU.
Elasticity: flexible and comfortable to wear, but also highly resistant to impacts and vibrations.
Energy return: the sole can be bent nearly a million times with no signs of damage thanks to the outstanding flexibility of this material, in other words it has the capacity to store and release energy just like a spring.
These three characteristics give players the feeling of having more energy and grip while on the pitch, along with an outstanding touch.
Discover on our website www.extremematerials-arkema.com and also in this short video how the Pebax® elastomer performs compared to TPU:
Pebax® elastomer, a material with a proven track record!
The Pebax® elastomer is no newcomer, although various grades and improvements are developed regularly to meet customer requirements. It was in 1981, back when the chemical industry was faced with a shortage of plasticizing additives (the molecules that were incorporated into materials to improve their properties), that material experts in Arkema's laboratories started conducting research on polymers that were sufficiently 'talented' enough to do without additives. They combined a polyamide block (a chemical technology mastered by Arkema) and its rigid characteristics with a more flexible polyether block ; thus Pebax® resin was born.
This thermoplastic elastomer (TPE) inherited a unique range of properties that could be adjusted depending on the polyamide/polyether ratio: flexibility, elasticity and energy return, and a resistance to twisting fatigue, impact, tearing, temperature fluctuations, etc. Pebax® is also the lightest TPE. It is both waterproof, breathable and does not retain moisture. Its properties are not affected by very low temperatures. In a nutshell: it is a 'miracle' polymer!
Pebax® resin, the all-rounder
It didn't take long for this polymer to attract strong interest from sports brands. Its favorite application? 'Technical' sports shoes! The major sports brands started using it to design 'high-performance' soles not only in soccer, but also for rugby, running, tennis and trekking footwear. In 2014 and 2018 over half the players in the soccer FIFA World Cups wore shoes that had Pebax® resin soles, popular due its mix of elasticity, lightweight and hard-wearing properties. A more rigid grade of this multipurpose elastomer can also be found in the shell of ski boots from major brands including Scarpa, Dynafit, Scott and La Sportiva. The fact that its properties are not affected by very low temperatures is particularly appreciated.
Over time, Pebax® material has been used in dozens of other applications: industry and transport (flexible seals, films, conveyor or transmission belts, fastenings, etc.), textiles (waterproof and breathable clothing), electronics and electricity (antistatic additive), medical devices (catheters, tubes, surgical gowns and gloves, etc.). A range that is regularly expanded with innovations such as Pebax® Rnew®, the first bio-based TPE derived from castor oil.
Pebax Powered® an asset for sports brands
Sports equipment manufacturers have understood the extra performance a sole made of Pebax® material brings to a shoe: certain brands have turned it into a sales argument by displaying its presence inside their shoes. For the last two years, Arkema has supported them through global marketing strategies based around four main areas: stronger partnerships; the creation of the Pebax Powered® logo to be displayed on the finished products; a series of marketing campaigns designed for end user sports customers; and finally, a sports application website designed to show the general public the benefits of the material.
Since it makes a real difference in terms of comfort and performance, Pebax® elastomer plays a major role in reinforcing the attractiveness of a brand
Jérôme Allanic - Head of the Pebax® consumer market
Follow all Pebax Powered® program news at www.pebaxpowered.com and on Instagram @pebaxpowered.
Click here fo all Pebax® statistics during the FIFA Women's World Cup, France 2019™.