Whether it's an accident in or outside of the workplace, illness, aging, burn-out, etc., workers can be faced with a disability at any time. As a responsible employer, Arkema is committed to the employability and integration of people with disabilities. The goal is twofold: to welcome all potential talents and to provide the best support for employees affected by disability.
A responsible policy for the employment of workers with disabilities
Today, "any person whose possibilities of obtaining or keeping a job are effectively reduced following the deterioration of one or more physical, sensory, mental, or psychological functions" is considered a worker with a disability.
Since 2008, Arkema has pursued a proactive policy for the integration of people with disabilities.
In April 2017, the company signed a fourth agreement, with a four-year term. It provides for the hiring of 60 employees with disabilities and a 21% increase in turnover to be achieved with the protected worker sector.
At the end of 2018:
73 new recruits were hired (all types of contracts)
Turnover with the protected worker sector increased by more than 20% (€358,861)
The direct employment rate was 4.37%
The overall employment rate was 4.73%
Only in French: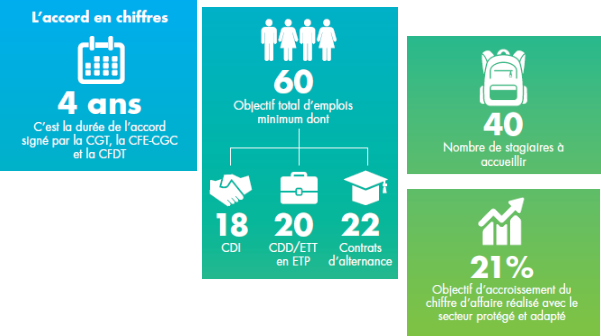 In all of its trade divisions, Arkema recruits employees—recent graduates and experienced workers alike—seeking demanding and stimulating jobs. Only talent matters: without consideration of age, gender, origin, or disability, the Group relies on people with operational, forward-looking profiles to build the future."
In addition to quantified targets, Arkema is pursuing and strengthening its actions for people with disabilities in five key areas:
Maintaining employment and preserving the skills of employees with disabilities: carrying out numerous workstation ergonomic studies and providing the necessary adaptive tools, training nurses in ergonomics, developing the network of contacts, and organizing a meeting of the network of disability contacts and coordinators for the first year.
Implementing an open recruitment and integration policy, based on skills criteria without prejudice: making career pages accessible, participating in several recruitment events at the national and local level, pursuing special partnerships, such as the Club House promoting the integration of people with disabilities.
Including young people in training sessions to improve their qualification level and their ability to integrate professionally in the company: launch of a fourth "Production Operator" qualification certificate class and launch of a project to establish a professional laboratory technician qualification.
Developing partnerships with the protected sector: developing support at all sites through a partner who specializes in this area.
Mobilizing internal stakeholders to demonstrate openness, solidarity, and the necessary daily efforts: continuing to raise awareness among employees and managers through local actions and plant communications.