Arkema's Thiochemicals Division is ranked as the world's top company in the industrial specialty thiochemicals field (sulfur-chemistry products), operates worldwide, and leads the industry.
EP Additive, Descaling Agent and Acid Cleaner
SPS® 10 LS
SPS® 10 LS is a sulfur-based extreme-pressure additive agent developed by ARKEMA for use in synthetic and semi-synthetic metalworking fluids. SPS® 10 LS is completely water-soluble, 100% biodegradable, and is designated as a non-hazardous material under the Fire Service Act of Japan.
This odorless and colorless material shows excellent extreme-pressure performance and is also effective in applications operating under severe conditions.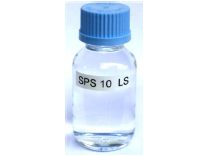 Scaleva®
Scaleva® is a sulfonic-acid-based, odorless, and eco-friendly, 100% biodegradable descaling and acid cleaning agent. With its superior performance in dissolving calcium carbonate, calcium oxalate, and hydroxy apatite, Scaleva® has been adopted in dairy/milk, beer, and other food processing/beverage factories in Europe. It also dissolves well and washes away organic substances such as protein, oils and fats, and minerals. Since Scaleva® contains no phosphorus or nitrogen, it is useful in addressing the issue of eutrophication (nutrient enrichment) in aquatic environments. It is stable at temperatures of up to 200 ℃. Scaleva® can be used either as is or by adding water, and can be considered for use as a raw material in blend/compound products.
Learn more about Arkema's thiochemicals...