SAMPE Japan is an exhibition of the cutting-edge materials, the processes and the recycling of composites.
Arkema in Japan will exhibit Elium® which is acrylic liquid thermoplastic composite matrix, and the range of UDX® which is high performance polyamide based thermoplastic CF UD tapes.
On 19 October, Fumi Ariura, Business development manager of Corporate R&D division will give a lecture about "Application of Arkema's thermoplastic composite and recycling in EU".
Technical Seminar (in Japanese)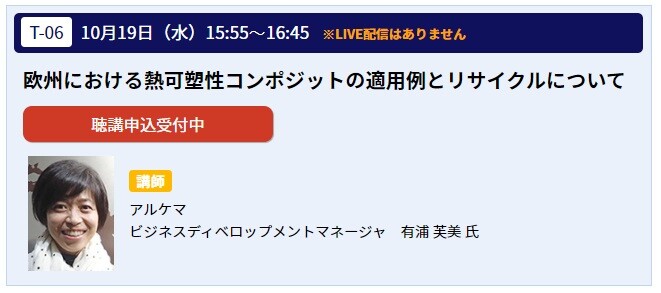 10月19日(水)15:55~16:45
「欧州における熱可塑性コンポジットの適用例とリサイクルについて」
有浦 芙美
アルケマ株式会社 ビジネスディベロップメントマネージャー
SAMPE Japan 特別ステージ【東京ビッグサイト西2ホール内】
聴講無料・事前登録者優先
We are looking forward to welcoming you at our booth!